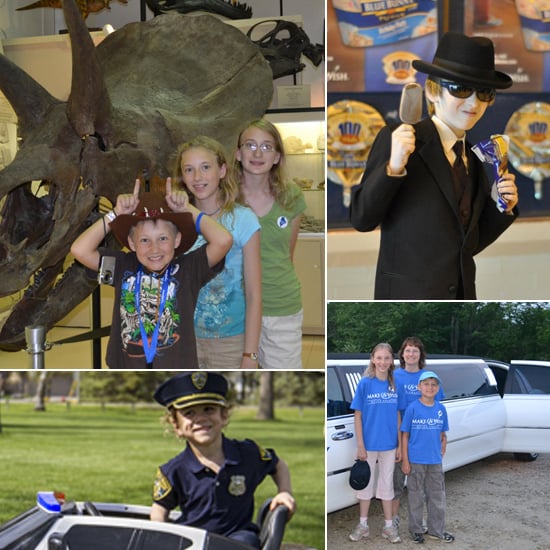 This year, the Make-A-Wish Foundation is partnering with Wells Enterprises to launch a new campaign — 100 Years, 100 Wishes. Best known for its Blue Bunny brand ice cream, Wells is celebrating its 100-year anniversary by funding 100 wishes for children with life-threatening illnesses. We caught up with Make-A-Wish CEO David Williams and Wells CEO Mike Wells to learn more about the program, and how you can get involved.
POPSUGAR Moms: Tell us about the 100 Years, 100 Wishes campaign.
Mike Wells: It's Blue Bunny's 100th anniversary, and when we sat down to figure out what to do, we thought about two things — how to honor the consumer, and to do good in some way — to give back. We started talking about birthdays, and what you do to celebrate birthdays. You blow out candles, you make a wish. The concept just clicked. We're funding 100 wishes, but our employees are also getting involved.
David Williams: They could have chosen to celebrate their 100th in a myriad of ways. The fact that they chose to partner with us is very significant. When a corporation of this size does something with us, it's a great day.
PSM: How many wishes does the foundation grant during an average year?
DW: Every year we grant just about 14,000 wishes. There are about 27,000 kids diagnosed with a life-threatening medical condition every year. So for each child that we're able to help, there's one we're not. The good news is that since 1980, we've been increasing the number of wishes that we grant every year. Our vision is to provide one for every eligible child.
PSM: David, What's the most gratifying part of being at the helm of Make-A-Wish; and Mike, what's the most gratifying part of being able to partner with the organization?
DW: I'm very fortunate in that I get the opportunity to meet a lot of families, the moms and dads whose kids are sick. As a father, it would be so hard for me to express my gratitude to the people fulfilling my child's wish. They would not have known my son or daughter, yet to be able to do something to fulfill their one true wish — that would be very meaningful. Talking to the moms and dads is a very humbling reminder of the power of the organization.
MW: For me it's very similar, but I've also come to appreciate that in running a successful business — it's because of that that we're able to partner with Make-A-Wish and be part of this. Knowing that these families are experiencing this wish, and experiencing what David was just talking about as a result of us managing our business well and it makes us even more encouraged to do that for the next 100 years.
Click to read more to learn how you can support Make-A-Wish's 100 Years, 100 Wishes campaign
PSM: Is there a specific story or child who you've formed an especially personal connection to?
DW: Of course every wish is special, and every child is important. One that I always think back to is about eight and a half years ago, when I was interviewing with the foundation. There was a young girl whose wish was to raise the money to provide transplants to the 155 children on a waiting list in the state in which she lived. Everyone encouraged her to come up with something else that was more about her, but she was stubborn about it and it was successful. The organization was able to raise the $1.5 million for each and every child. At the time, as I was looking at Make-A-Wish to be able to make a career change, it was very meaningful to be able to see that evolve and I knew it was an organization that really dealt with some very special people.
PSM: What are some ways for parents to get their kids thinking philanthropically from a young age?
DW: That's just it: Get them involved early on. More and more parents are teaching their kids about giving, and philanthropy from a young age. Here at Make-A-Wish, we have a program called Kids For Wish Kids that really engages children at all ages and all levels to help out other kids. It's so easy to take good health for granted, and you hang around these kids who are going through some tough things medically, and it really helps to put things in perspective. I think that the younger we can do that with our kids, the better it is for everybody.
PSM: Do you have any tips for how to teach young kids about Make-A-Wish, and the fact that children can become seriously ill, in a way that won't scare or confuse them?
DW: I think it's all about doing it carefully and in a way that's appropriate for their age. It can be as simple as, "This little kid who we're going to help is really sick — Sometimes you get sick with a cold, and he or she is sick, but it's much more serious. Wouldn't it be a good thing to be able to help this kid, and help their family?" I think you can keep it pretty simple, and most kids will get the point.
PSM: So tell our readers how they can get involved and support the campaign.
MW: We have a web site set up specifically for it — 100 Years, 100 Wishes. You can go on there and sign our "Wish card." Of course you can always visit Make-A-Wish and donate your time, money, services, and airline miles there.