Hurricane Earl Ruins Labor Day Plans
Non Voyage When Labor Day Weekend Plans Are Ruined!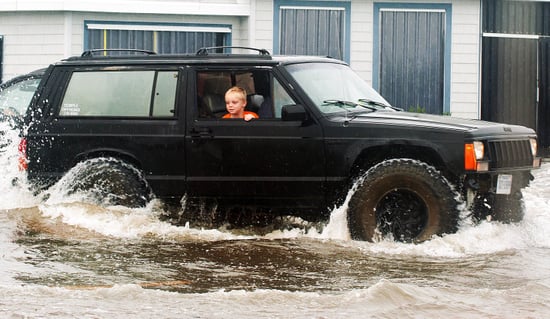 There's one thing that storms can't affect, and that's a family's level of fun. If Hurricane Earl or bad weather has you amending Labor Day plans, use a bit of imagination to staycation at home. Whether your children are interested in a sand and sea getaway, boarding a cruise ship, or exploring America's big cities, we've got tips and tricks for how you can give them any and all of those experiences while making memories. Skip packing bags or printing out itineraries and check out our choices!
The Great Outdoors: Pitch a tent for a backyard adventure without having to worry about any campground regulations!
Cruise With the Kids: Leave the ocean sickness at bay and participate in some of these shiptastic activities!
Life's a Beach: Plan a coastal getaway tailored to your kiddos. Bring home the surf, sand, and sea.
Rev It Up For the Ranch: Giddyup lil doggies! It's time to get the wee ones fired up for some time on mama's kickin' dude ranch!
Keep reading for more local options.
New York! New York!: Babe, let's bask in the bright lights of the Big Apple and take a bite.
The Windy City For Wee Ones: Chicago offers kids deep-dish pizza, Navy Pier, and the Sears Tower, so take them to the Windy City.
DC Is Where Kids Need to Be: Politikids will love learning a few tricks at The Spy Museum and taking note of our country's forefathers in Washington DC.
Everything Is Big in Texas: Hee haw! Texas offers tots history at the Alamo, musical entertainment in Austin, and good grub for hungry tummies.
Leave Lil Hearts in San Francisco: Open the Golden Gate! The 7x7 city by the bay is a coastal mecca for free thinking and progressive opinions. Expose your mini mes to different cultures here.