I Never Forget a Face
Toy Box: Never Forget a Face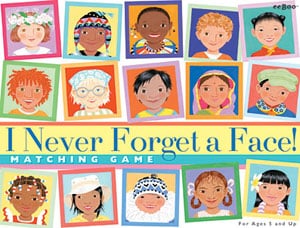 Celebrating diversity is a valuable lesson for children to learn in this growing global world of ours.
Eeboo lends parents and teachers a hand with the I Never Forget a Face matching game ($14). Children can sharpen their memory and match–making skills while learning about different cultures and customs.
Lil ones will delight in learning about their friends around the world. Japanese, Swedish, African, Hispanic and Indian backgrounds are just a few of the many represented.