Including Your Own Children in Your Wedding
We All Say "I Do!" How to Incorporate Your Own Kids Into a Second Wedding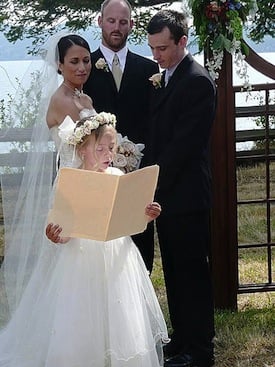 A marriage between two individuals is a tremendously significant merge on its own. But add in kids and the event takes on an entirely new meaning. Whether the bride, groom, or both parties have children from previous relationships, ensuring that they feel included in their parent's next life step begins even before the proposal.
The good news is that getting your newly blended family off to the right start is entirely within your control. Incorporate your own spin on these suggestions to make sure that your kids (or new stepkids) feel included, and honored, in your wedding planning, wedding day, and beyond.
Raise the Issue in Advance: Don't wait until a wedding date's being set to address your new relationship status with your kids. Depending on their age(s), have an appropriate conversation about what the marriage will mean to you as a family — both logistically and in terms of the changing dynamics.
Will You (All) Marry Me? While it's still appropriate for a proposal to be an intimate moment between two people, gathering the whole family for a celebratory discussion around the time of an engagement is a nice way to address any concerns and share the excitement.
At the Altar: In addition to including your children in the wedding party (or having your wedding party consist exclusively of your kids), many couples opt to give them special roles. If they're old enough, kids can do readings during the ceremony, or you can write your own "family vows" that include everyone.
A Special Ceremony: Work with your officiant to come up with a unique ritual that you can incorporate into your ceremony. This should take into account your kids' ages, religious beliefs, and family traditions to ensure that it's a meaningful event as opposed to just "going through the motions."
Family Ties: Gifting your children with a special piece of jewelry or family heirloom gives them something symbolic to represent their new family.
Source: Flickr User bkleinh