Individually Wrapped Diapers For on the Go
Diaper Buds Vacuum Packed Nappies: Kid Friendly or Are You Kidding?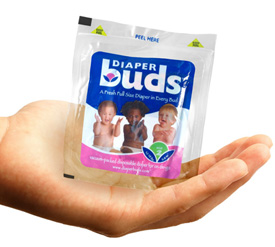 Ready to toss the diaper bag, but still need an emergency nappy or two? Diaper Buds ($1 for two) are vacuum packed, individually wrapped diapers that expand to the size of regular versions once the packages are opened. Designed for moms on the go, three packets fit into the same space as one traditional diaper. Would you keep them in your purse?