Inspiration for Crewcuts Children's Clothes
Interview With Jenna Lyons: The Mom Behind CrewCuts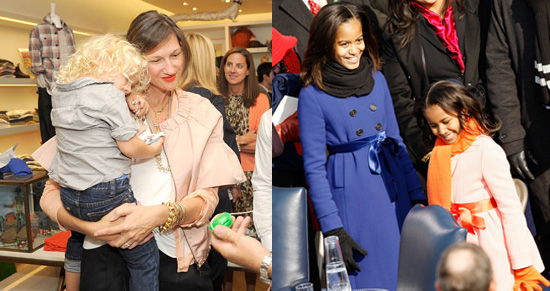 Lots of moms see voids in their children's closets, but a select few have the power to change them. Our girl Fab put her Lil hat on during Fashion Week and talked to J.Crew's Creative Director, Jenna Lyons about her source of inspiration for Crewcuts, an Obama girl favorite!
FabSugar: Crewcuts, is that how you wanted to dress (3-year-old son Beckett)?
Jenna Lyons: I think we were looking to find a way to make it feel — kids' clothes are either like Little Lord Fauntleroy or totally casual. There's really nothing in between. So, we were thinking, what would a little J.Crew girl or guy — what would you want them to look like? That doesn't mean a mini me, but that sensibility — a little bit of humor, a play on texture and color and not taking yourself so seriously — and whimsy and some surprise. And there's no surprises in kids' clothes at all. And I don't want him to look like he's going to the queen's court — I just don't get that. I'm not into that at all. So, that is definitely something...I think having a child helps a lot — kind of figuring out what you think is great about kids' clothes. What I find is missing is sort of how we add things to the line and the team that works on that is amazing. But we also cultivated a team that's from adult apparel, not kids' clothes. It makes a huge difference. It's about the way we fit it, but we don't think about designing it for a kid, you know? We just design something we think is cute and then we scale it to work.
FabSugar: Make it really small?
Jenna Lyons: Don't make that neckline too low.