Interview With Alyson Hannigan About Kids on Set, American Reunion, and Motherhood
Alyson Hannigan Shares About Life on Set and Her Mommy Must Haves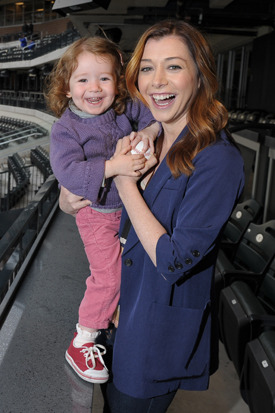 How I met Alyson Hannigan? At a StubHub luncheon for her new Mom's Night Out charity initiative where she urged the attendees to forgo the healthy wraps in favor of the tasty chicken fingers. The mama of one, and star of the hit series How I Met Your Mother, was there to talk about the importance of taking a night off from the kids, but it was quickly apparent that she loves spending time with 2-year-old Satyana, joking that the first night she'll spend away from her, "will be when she goes to college!"
While her HIMYM character has recently taken a break from trying to conceive a child, almost everything else in Alyson's life revolves around kids. The actress, who recently signed on to reprise her role as Michele in the fourth installment of the American Pie franchise, answered a few of my questions about work and motherhood.
LilSugar: Congratulations on American Reunion. So what's in store for Michele and Jim this time around?
Alyson Hannigan: They're parents, they have a kid, so that will be a part of their life obviously – balancing the hecticness of having, I think a 2-year-old (but that could have changed at this point because of casting). I'm hoping it will be really good. I think it will!
LS: Lily seems so maternal. Will we see Lily and Marshall start trying for a baby again this season?
AH: You will definitely get more of that piece of the puzzle in the season finale! You will definitely have to stay tuned.
LS: How I Met Your Mother has become baby central over the past few years! Do you, Cobie Smulders, and Neil Patrick Harris all bring your kids on set?
AH: It's really good! The majority has kids now, we rule! The baby babies have come by to say hi, but they don't stay there. And Cobie and I bring our daughters to set – we try to time it out so that they can have playdates – they're such good friends.
LS: How do you relax if you find 10 minutes for yourself during the day?
AH: I wind up surfing baby sites. It just feels real decadent to be on the computer without shutting it (when Satyana's in the room). We still don't let her watch TV or play on the screen. So looking at the computer when she's awake doesn't really happen because instantly, she's like, I want to see! If she's napping, I can open the computer and not look around!
Keep reading to learn what Alyson has planned for Mother's Day and her answers to our four Lil Questions.
LS: What do you have planned for Mother's Day?
AH: My husband's so good at spoiling me. He'll have some special tricks up his sleeve. I'm just saying I hope it involves sleeping-in and hopefully maybe some kind of breakfast in bed. But honestly, as long as I'm with my husband and my daughter, it's going to be a great day.
LS: You know you're a mother when ______.
AH: You are eating something that has just been spit out of a child's mouth – and not flinching at all!
LS: Why didn't anybody tell me ______ about motherhood?
AH: Why didn't anybody tell me how much fun it was going to be! It really is a club and you don't know until you're there.
LS: What's the best trick your mama taught you?
AH: I'm just starting to do the things that as a kid you're like "Ah, don't do that!" I keep telling my daughter that I will stop doing them as soon as she asks. Like last night, at the restaurant – this is what my grandma always used to do – I took the cloth napkin, I dipped it in the water glass, and I wiped her face. I was like, "I am my grandma right now!"
LS: What are your mommy must haves?
AH: The Bob stroller is fantastic! Give me a good wet wipe and I'll be happy! And, I know this is terrible for the environment, but they now make sunscreen wet wipes and those have been coming in handy. Unfortunately, my daughter inherited my pale skin, so those are fantastic!