Interview with Annabel Karmel: Liven Up The Lunch Box
Interview with Annabel Karmel: Liven Up the Lunch Box Yesterday, we discussed fussy eaters with the London- based cookbook author, Annabel Karmel, and today we're talking books.
If you have a school-aged child, you know that the morning routine of getting everyone up and dressed, fed and packed for school leaves little time for creativity.
Lunch Boxes and Snacks, which hit book stores in January, takes parents beyond the peanut butter and jelly or tuna sandwiches with tips and healthy recipes to liven up your child's lunchbox.
Recipes range from sandwich alternatives like Kiddie Sushi-Style Rolls to cold pasta salads, like Mummy's Ramen Noodles, to ethnic alternatives like Spanish Omelets with Potatoes, Zucchini and Tomatoes.
To find these recipes and hear what Annabel had to say about snacks,
.
Annabel says snack time is a prime opportunity to introduce lil ones to nutrient rich and new foods.
One way to accomplish this is with Trail Mix Bars, like the recipe here: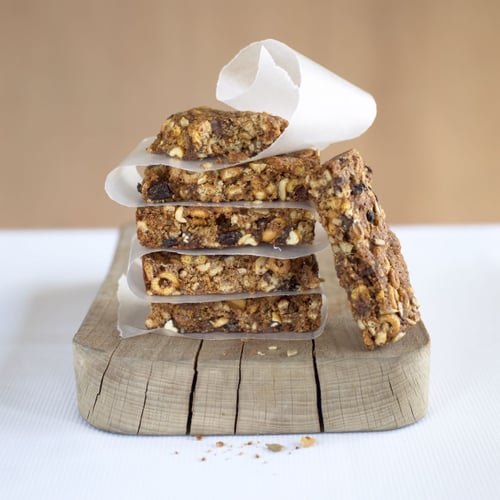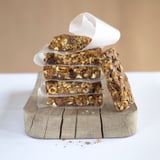 Ingredients
4 TBS unsalted butter
3 TBS honey
1 1/3 cups quick-cooking oats
1/2 cup packed light brown sugar
3/4 cup Cheerios
1/4 cup raisins
1/4 cup salted peanuts or pumpkin seeds
1/4 cup milk chocolate chips
1/4 cup sunflower seeds
1/4 tsp salt
Directions
Preheat the oven to 325F. Line an 8-inch square pan with parchment or other baking paper and lightly grease.
Put the butter and honey in a small saucepan and heat gently until the better has melted. Set aside to cool.
Put the remaining ingredients in a large bowl and stir to combine. Add the cooled butter mixture and mix well. Transfer to the prepared pan and press down firmly with a potato masher. Bake for 30 minutes or until the center is just firm to the touch.
Allow to cool for 15 minutes, then mark into eight bars, using a sharp knife. Allow to cool completely before lifting from the pan. Store in an airtight container.
Makes 8 bars.
Information
Category

Snacks, Kids
A sandwich alternative can be made with the following recipes: