Interview With David Netto About Influences
David Netto Gives Parents What They Never Knew They Wanted in the Nursery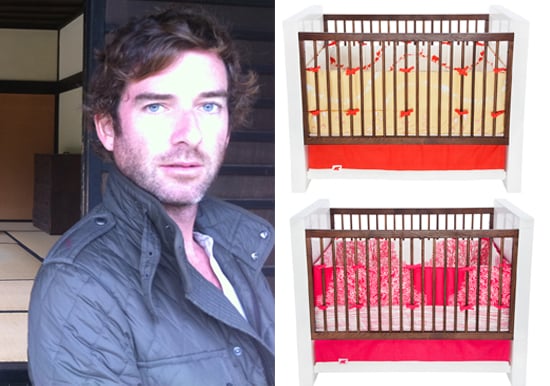 It's been 10 years since David Netto shook up the world of nursery design with his modern, case-like cribs. Now, after selling his company to Maclaren, the interior and furniture designer is further expanding the stroller stalwart's home offerings with his first line of crib linens. The "serene designs, but very hot colors" are heavily influenced by the bold patterns of Marimekko and strong colors of Belgian Shoes, as well as the input of his two daughters – Kate, 9, and Madeline, 4, – who are "wild about color." The renowned designer answered a few of my questions as he showed off the four new designs.
LilSugar: What led you to do textiles at this point?
David Netto: I had always planned to. I had plans like that for a long time, but I really didn't know how to enter that business intelligently. I had enough on my plate trying to make furniture work. To get committed to soft goods and table top . . . There's a whole bunch of bags designed too that we just never figured out how to make with confidence.
LilSugar: What other influences came into play with the linen design?
David Netto: I wanted it to be the opposite of what the furniture was like. The white serenity and Scandinavian vibrations of all of our hardscapes have always been what we've set out to do, and they're beautiful. But there's a certain kind of friendliness that a nursery has to have, that comes from fuzzy stuff and things that aren't sleek. So I wouldn't have wanted to add to that since the whole premise of the furniture was if you do the architecture right, then you can have the big birds, and stuff, and it will never look that bad. Most people seem to really like bright colors. Nobody really seems to want to live in a disciplined, minimalist environment that's top to bottom like that. I wanted them to be fun. I looked at all the things that Maclaren is already making and I thought what do I like about modern design when it's handmade and eclectic and surprising.
I would be afraid to do something too plain. And also, that's out there. There's very beautiful Italian stuff, like linen with a scalloped pink edge, and stuff. I'm not going to teach anybody anything new with stuff like that.
There's a decorating saying that I love that says, "Give them what they never knew they wanted." Albert Hadley said that. So I'm always trying to get customers to like us who never thought they liked modernism. That's what this is supposed to deliver as well.
Keep reading to see what the designer said about designing a stroller for Maclaren, and the next piece of furniture he wants to add to his collection.
LilSugar: Will we see your modern influence extend to stroller design as well?
David Netto: I've never been asked to do one thing on a stroller since I started, which I find in some ways surprising. I don't mind at all, I mean we all have plenty to do.
I am hopeful that . . . we do a twin bed or a bunk bed, and get our furniture business into the toddler phase – where we are able to keep a kid that grew up with a Maclaren Nursery crib. If you were going to expand this, and you were to ask me what I thought we should do, I would rather see us sell toddler furniture than bags. But that's said with all humility and I'm not the person deciding anymore!
LilSugar: When designing for the nursery, do you find yourself tempering your ideas because parents just won't stray too far from the traditional nursery?
David Netto: They're not that wild, my ideas! But there have been disappointments along the way that have chastened me. I think that if you enter this market seriously, you have to be sensible. You can't just be a fantasist. This isn't the place for it. That's why the premise in the beginning was two fold. The furniture was something you could fall in love with, as if Hermes made furniture (which I don't know why they didn't, but they didn't) and equally as important, that it never needed to go away. The disposability of baby furniture drove me crazy. So there was this practical mission that we wanted to have continuous use of the crib that turned into a daybed that turned into storage, and all of that stuff is practical. I just thought you had to look people straight in the eye and say this is a serious product that you're going to like and its going to do you a favor to buy it, it's not (something crazy like) a blue mink coat.
Stay tuned for more of my interview with David Netto, including his tips for designing a nursery from top to bottom.