Interview with Hattie From BABIES' Parents
Oh, BABIES! Interview the American Child Hattie's Parents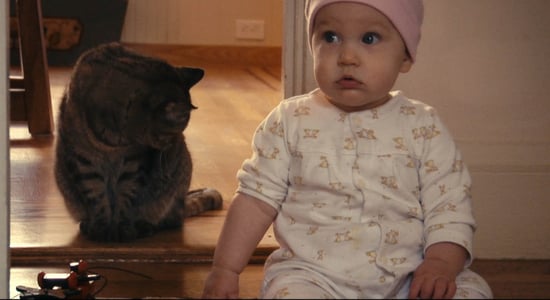 The film that captured the cute and cuddly, the awe and inspiration of a child's life from birth to first steps, BABIES opened in theaters yesterday. We recently had a chance to chat with the American child, Hattie's parents, Susie Wise and Frazer Bradshaw about the experience. Coincidentally, the little girl who made her big screen debut during her San Francisco delivery turned four on opening weekend.
LilSugar: Out of all the babies in the world, how did they pick Hattie? How did you get involved in the film?
Frazer Bradshaw: My friend Jay Rosenblatt who was involved in the project originally called me about being the American cinematographer for the American baby and at the end of the conversation said he needed a baby to be born in the Bay Area around May and I said that was when Hattie was due. Thomas (Balmes) the director was in New York and flew out the following weekend.
LilSugar: Did watching the way other babies are raised around the world affect your parenting style?
Susie Wise: We are trying to be thoughtful and not over reactive and not germaphobic and not OCD so I kind of find looking at the other things reinforcing in the direction that we're kind of trying to go. Obviously we live in a city — we're definitely contemporary American people. We're not living on the fringe in any particular way. I find it inspiring because I would like to be more and more low key and allow Hattie to be who she wants to be and experience the world pretty freely. It's hard to do here and it's a reminder for us to seek out those opportunities.
LilSugar: People will always think of Hattie in relation to the three other babies in the movie. Do you feel a kinship with those families?
Susie Wise: One of the really strong motivators for participating in the project from the beginning is to give Hattie the gift of kinship with these children from other parts of the world and it seemed like an amazing opportunity. Hattie definitely built a kinship just from watching trailers and seeing the posters. She talks about Bayar and Mari and Ponijao. She wants to know which ones are girls and which ones are boys and what are they up to — those kinds of things so I see that she has that already and it's kind of interesting.
In light of the positive experience the family had filming BABIES, we asked the couple if they would consider taking part in a documentary about children if one came about. They said Hattie would have to chime in on such a decision.
Focus Features