Interview With Imagination Movers
Imagination Movers Wow Crowds on Tour and Talk About Movie Potential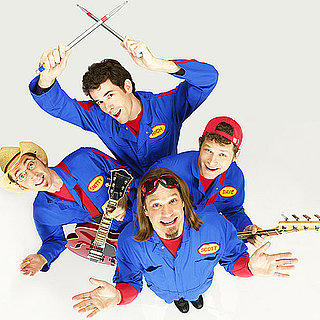 Disney Junior's dad band, the Imagination Movers are wowing crowds on television and on tour. I recently caught up with the guys (Rich Collins, Scott Durbin, Dave Poche, and Scott "Smitty" Smith) before they zipped into their signature blue jumpsuits to take the stage at the Fox Theater in Oakland, CA.
LilSugar: You film your show in New Orleans to create jobs for locals. Is Louisiana still your home base?
Smitty: We've done three complete seasons of Imagination Movers so that's a decent amount of work for a lot of local people. We also started our tour there. Anytime we can bring the business home, that's what we do.
Scott: Likewise, we filmed a concert special in New Orleans that will be airing on March 6.
LilSugar: Do your kids (the Movers have a combined nine) mind sharing you with the masses now that you are Disney celebrities?
Rich: It's very hard to leave. I get texts and pictures throughout the day when we're on the road. The balance in working is that we have to go a lot, but we also get a good chunk of time where we get to be Mr. Mom between the end of production and the beginning of the tour.
Dave: Now with the technology —Skype, Facetime — being able to send pictures back and forth, it makes it a bit easier. My wife scans homework and sends it to me. Then, I get on Skype with my son and go over his homework with him when I'm on the bus or at the hotel. That makes it a lot more bearable and keeps me in what's going on in the house even though I'm not there physically. I get to participate and parent on the road.
Scott: It helps when they are in school because then they have their routine. If we were touring during the Summer, it would be more felt. We're blessed that we have wonderful wives and a network of friends that help us out when we aren't there.
LilSugar: In terms of revenue, you have the show, merchandise, and the tour. Is anything else on the horizon?
Rich: We're not going to stop until we make the Imagination Movers feature film.
LilSugar: Are you in talks or negotiations with Disney on that?
Rich: We're in the very early stages.
Scott: To be able to create an intelligent G-rated movie for kids is kind of like the Holy Grail because there's so much out there that is just insufficient.
LilSugar: Would you go 3D like everyone is doing now?
Rich: (laughs) We're going to go 4D, maybe 5D — we're thinking big!