Interview With Lisa Cholodenko Writer and Director of Golden Globe Winner The Kids Are All Right
Interview With Lisa Cholodenko Writer and Director of "The Kids Are All Right"
Hooray for "The Kids Are All Right" winning Best Motion Picture — Musical or Comedy at the Golden Globes tonight! Take a look back at my July interview with the the writer and director.
"Moms, I want to meet the sperm donor." It's a conversation that will take place in more and more households as children born with the help of science come of age. Lisa Cholodenko, the writer and director of The Kids Are All Right, explores it on the big screen. And, in the future, she and her partner will likely have the talk with their own son, who was born through artificial insemination. (Interestingly enough, Cholodenko's writing partner, Stuart Blumberg, was a sperm donor in college.) We had the opportunity to ask her a few questions at the San Francisco junket.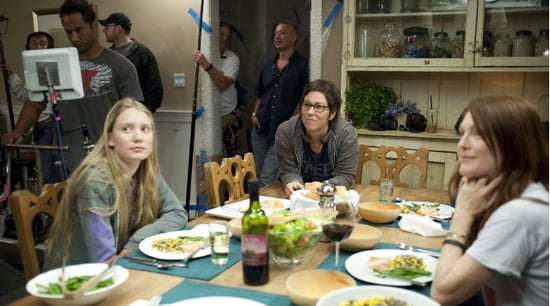 LilSugar: When creating Mark Ruffalo's character, Paul (the sperm donor), how did you decide to make him this man who gets the call (about meeting his kids) and says, OK? There weren't pinnacle moments in his decision making.
Lisa Cholodenko: I think at a certain point after you get the kind of basic idea, you have to figure out what stays and what goes. At a point in the writing process and long deliberation, he was a more favored character and took 20 pages instead of five pages to figure out and then you said, well let's get the show on the road — what's the plot? Where are we going with this? Is it about him deliberating or is it about the meeting and the impact on the family? You are sculpting this beast and you don't really know where it's going to go and slowly kind of the real story emerges and you realize how much you have to trim here and there to get it moving. So it was get the show on the road, what's the shorthand of this guy, how can we get there, and say enough about him and give him the due diligence that he needs to get sympathy for the character.
LS: Wine is sort of seen as an acceptable way for a mother to drink. What made you decide to write Nic's drinking in and have wine be her vice?
LC: It just seemed like something that would be a good detail for that character. This person (Nic) who is really trying to keep things together — like suffocating and choking herself, and self-control and what not, and also felt like it was funny because it gave us a lot of for comedic moments and also played into the kind of irony. It's a drug like anything if you get sauced every night. But, also that it was a kind of a shorthand to show that here's this person who's probably actually really having a lot of feeling and anxieties that she's trying to clamp down and in a certain way have her be kind of an acceptable lush or whatever was a way to show that she's pretty vulnerable.