Interview With Mdot, Matthew Finley, of Disney's Camp Rock 2
Mdot, Star of Camp Rock 2, Is Disney's Next Big Thing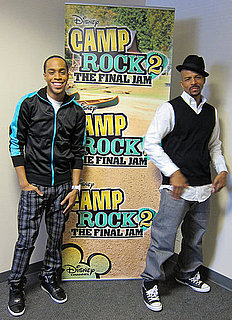 Your daughter dresses like Selena Gomez and your son quotes Zach and Cody, but come September, all the kids will be trying to sing and dance like Mdot. Known for making some of America's biggest stars, Disney is now shining its spotlight on Matthew "Mdot" Finley. Cast alongside Demi Lovato and The Jonas Brothers in the tween and teen musical masterpiece Camp Rock 2: The Final Jam, the 23-year-old got his big break. We recently caught up with him in San Francisco.
LilSugar: Amazing talent has come out of Disney — is this your big break?
Mdot Finley: Yes. I see it [Camp Rock] as a great platform and jump-start to a place that a lot of people would want with all of this exposure. Disney is a great machine, what they put behind you, and it's a dream come true to come from the bottom up. I [get to start] with the younger crowd and hopefully have them stay with me forever. It's an honor and a great opportunity.
LS: When did you get the call?
MF: I got the call while I was valeting a car. I was actually going to just let the car roll off, but I finished the day off strong.
LS: What is it like to go to the set with The Jonas Brothers?
MF: This is my first major project. I just got to just kick it with the brothers and Demi. I went to the studio with the brothers and hung out and it's unreal. They are movers and shakers of the industry right now, but they are so down-to-earth and laid-back. It was crazy at times because the fans would be waiting for hours and lined up just to get a glimpse. I learned a lot.
To see what advice Mdot has for young fans who want to pursue big dreams,
.
LS: As far as the fans, are you starting to build your own base that will be lining up outside for you?
MF: I've had a couple people come up to me and ask for autographs and all that good stuff and I'm excited to build my fan base. This is the next level — it's bigger and better. The whole thing, what Disney's doing, is progressive.
LS: Was it intimidating or inspiring to work with a choreographer like Rosero, who has created moves for Usher?
MF: It's very intimidating, but also comforting. I want to be in the arms of somebody that has seen the vision so I won't repeat it, and know that I'm getting guided in the right direction. I love Usher and think he's one of the greatest R&B entertainers out there, and to be working with the man that made some of his visions come true — it's exciting. Rosero is off the chain — you've got to see him.
LS: You're seeing your dream come to fruition. What can you can you say to kids who have this dream?
MF: There's actually footage coming out soon of me [as a kid] playing a guitar and singing Earth Wind and Fire. [laughs] When I think about it now, I didn't think about it. It has to be a continuous momentum inside of yourself and you have to always want to go forth. If you're dreaming about something big, there's no limits, you just have to try and take it step by step; what do you need to do to get to that next step and that next one. Take your time and focus and try and build relationships and listen to your parents.
Camp Rock 2: The Final Jam premieres Sept. 3 at 8 p.m. on the Disney Channel. In case you missed it, check our interview with the movie's choreographer, Rosero McCoy.