Interview with Tori Spelling and Dean McDermott
Interview With Tori and Dean: How Their Family Rolls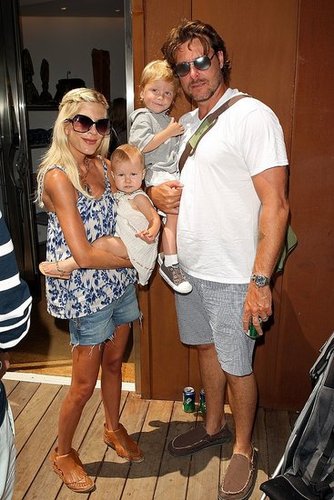 Ever wonder how Tinseltown families roll? We found out! This morning we chatted with Tori Spelling and Dean McDermott who teamed up with Cottonelle for their latest campaign about the great debate: over or under?
According to the company's findings, those who roll over are organized, take-charge overachievers while those who roll under are laid-back and dependable. With three books, two kids, a clothing line and five seasons of the television show, Tori and Dean: Home Sweet Hollywood, Tori is an over type of gal while her husband is the opposite. Check out what the couple had to say about their roles as parents to Liam, 2, and Stella, 1.
LilSugar: Based on their current personalities, how do you think Liam and Stella will roll?
Dean: I think that Liam will roll under and Stella will roll over. What Stella wants, Stella gets. Liam is really laid-back and kind of goes with the flow. Stella does what she wants to do.
LilSugar: Cottonelle has this great debate, but what is your biggest parenting one?
Tori: We kind of do everything together. Probably when it comes to parenting you (Dean) think I'm more good cop than bad cop. I'm kind of a little too lenient and I give in more.
Dean: And, I'm a little too strict — I'm the disciplinarian.
Tori: I let them get away with too much because I'm still staring at them amazed that they came from my belly!
To check out Dean's answers to our four Lil questions and the hands on daddy's trick for clearing up diaper rash,
.
LilSugar: You know you're a father when...?
Dean: You get pooped on.
LilSugar: Why didn't anybody tell me blank about fatherhood?
Dean: Your children will melt your heart every single day.
LilSugar: What's the best trick your parents ever taught you?
Dean: Cornstarch for diaper rash. Both Liam and Stella were prone to diaper rash while they were teething. You put a little cornstarch on before the diaper cream and it clears it right up. I'm using it right now!
LilSugar: Helicopter dad or free range kids?
Dean: Free range, I'm laid back, but I rule with a strong hand.