Jean Paul Gaultier Launches Children's Couture Collection
Jean Paul Gaultier Brings Couture to Children's Closets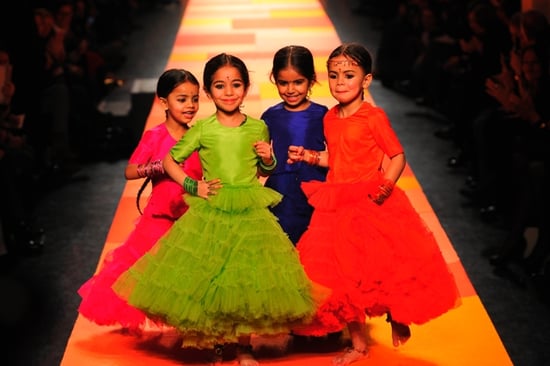 When thinking of children's clothing, Jean Paul Gaultier is not the first name that comes to mind. After all, not many 2-year-olds can pull off a cone bra. The designer, however, is hoping to change that with the launch of Junior Gaultier Couture.
During his Spring 2013 show, Gaultier surprised the audience when four girls ran out from under a model's gown. Each of the mini models was donning a neon-colored dress, which will be the first piece in Junior Gaultier Couture. But before you pull out the credit card, you should take a serious look at the price tag. This dress, which contains Swarovski crystal details, costs about $1,200.
While many (OK, most) won't be able to afford this one-of-a-kind piece, it is easily one every little girl would love. Inspired by his Spring 2013 Haute Couture collection for women, Gaultier created a silk bodice and tulle skirt that channel every girl's inner princess. The dress, which is being produced in ivory and padparadscha (known to little girls and most moms simply as "pink"), will be available for a limited time within the next few months.
What do you think of Junior Gaultier Couture? Weigh in on our poll and in the comments!