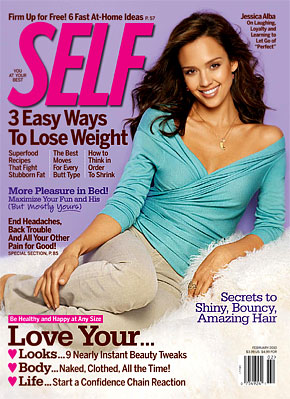 Honor Warren may layer on the accessories just like her famous mama, but there are a few items that Jessica Alba's daughter isn't likely to be sporting soon. The actress, who returns to the silver screen next month in her first movie since the birth of 19-month-old Honor, waxed poetically to Self about the battle wounds she bares from her pregnancy. In the February issue of the magazine, Alba discusses her ability to ignore her stretch marks and deflated breasts.
"Pregnancy was the most incredible experience I've ever had, so I'll take the stretch marks. I'll take the sagging boobs. I'll take the cellulite I can never get rid of. If you walk around with your head held high and you're happy and positive, then all that other stuff is irrelevant. Confidence is number one."
Alba may embrace her postpartum body, but plenty of women don't. Have you just accepted the markings of your pregnancies, or would you consider procedures to remove them?