Jessica Seinfeld's Back-to-School Quinoa Breakfast Recipe
Brain-Boosting Breakfast: Jessica Seinfeld's Protein-Packed Alternative to Oatmeal
Our mouthwatering Brain-Boosting Breakfast series continues with celebrity chefs and restaurateurs creating healthy, brain-boosting breakfast ideas to help keep kids going throughout the day.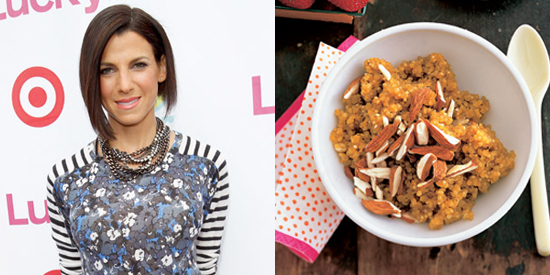 Quinoa has moved from quirky health food to pantry staple over the past few years. The gluten-free complex carb is packed with iron, fiber, calcium, and magnesium, but it's quinoa's rice-like texture that makes it a tot-friendly grain. Leave it to Jessica Seinfeld to find a way to work nutritionists' favorite grain into a breakfast recipe. The children's cookbook author (who's currently working on her third cookbook) and mother of three has perfected the art of transforming everyday favorites into kiddie health foods with the addition of vegetable purees and superfood ingredients.
For our Brain-Boosting Breakfast series, Jessica shares a cinnamon-maple quinoa recipe, saying, " I pre-make quinoa and store in the fridge to have on hand to use for breakfasts, lunches, and dinner. This quinoa breakfast is a protein-packed option for the whole family and makes for a nice change from oatmeal or cold cereal."
Keep reading for Jessica Seinfeld's recipe for cinnamon-maple quinoa.
Jessica Seinfeld's Cinnamon-Maple Quinoa
Recipe courtesy of Jessica Seinfeld's Double Delicious
Ingredients
1 1/4 cups water
1 cup quinoa
1 tablespoon trans-fat-free soft tub margarine spread
1/2 cup sweet potato puree*
1 tablespoon pure maple syrup
1/3 cup light vanilla soy milk or nonfat (skim) milk
1/4 teaspoon cinnamon
Pinch of salt
6 tablespoons pure maple syrup, divided for garnish
6 teaspoons chopped walnuts or almonds, divided for garnish
Directions
In a small saucepan, bring the water to a boil. Meanwhile, rinse the quinoa in cold water and strain. Add the quinoa to the boiling water and reduce heat to a simmer. Cook for 12 minutes, uncovered. Remove the pot from the heat, cover, and let sit for 5 minutes.
In a separate pot, melt the margarine. Stir in the sweet potato puree, 1 tablespoon of the maple syrup, soy milk, cinnamon and salt. When the quinoa has finished cooking, stir in the sweet potato mixture. Divide into bowls and top with a teaspoon each of maple syrup and nuts.
*For sweet potato puree: Prep —Do not peel. Cut into quarters if steaming. Leave whole if roasting. Cook — Steam for 40 to 45 minutes; or roast in a 400 degree oven for 50 to 60 minutes. Puree — Scoop out the flesh and puree in a food processor or blender.
Information
Category

Breakfast/Brunch, Granola