Jessica Seinfeld's Salmon Burger Recipe
Get Your Burger On: Jessica Seinfeld's Brain-Boosting Salmon Burger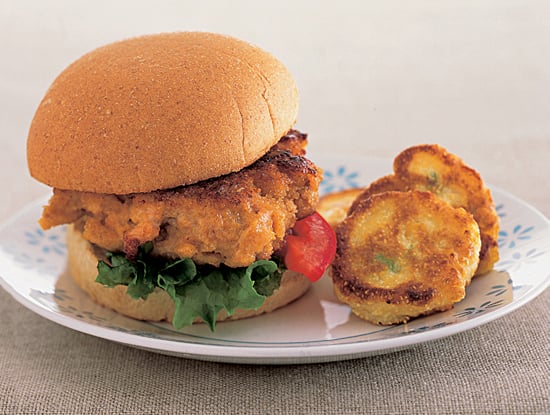 Serving up one patty of brain-building food on a bun! Put a piece of salmon on your lil one's plate, and watch how quickly he'll turn up his nose. Form it into a patty and serve it on a bun, and you just might have a new fish lover on your hands. As we make our way through National Burger Month, I turned to Jessica Seinfeld, the queen of purees, for her take on a healthy patty. Combining omega-3, fatty-acid-rich salmon with some sweet pureed carrots and hoisin sauce, the Do It Delicious chef and blogger created a burger that packs in the veggies along with the fish. Be prepared for finicky eaters to be won over instantly!
Keep reading for the brain-boosting salmon burger recipe!
Ingredients
2 T chopped fresh chopped ginger
2 cloves garlic
1 T reduced-sodium soy sauce
2 T hoisin sauce (plus more to top the burgers, if desired)
2 T reduced-fat mayonnaise
1/2 cup carrot puree
1/4 teaspoon salt
2 pounds wild salmon, pin bones and skin removed, cut into 1-inch pieces
1 teaspoon olive oil
6 whole wheat hamburger buns
Lettuce, sliced tomato for garnish (optional)
Directions
Put the ginger and garlic in a food processor and pulse until finely chopped. Add the soy sauce, hoisin, mayonnaise, carrot puree, salt, and salmon. Pulse until the ingredients are combined and begin to hold together.

Form the salmon mixture into 6 patties (the mixture will be very soft). Refrigerate for at least 1 hour to firm them up.

In a heavy-bottomed skillet over medium heat, brown the burgers in the olive oil, approximately 2-3 minutes per side. Serve on toasted buns spread with hoisin sauce and top with lettuce and tomatoes, if desired.
Information
Category

Main Dishes, Fish