Jessica Seinfeld's Spinach-Packed Ice Cream Recipe
Eat Your Greens: Jessica Seinfeld's Green Veggie-Packed Recipes For Kids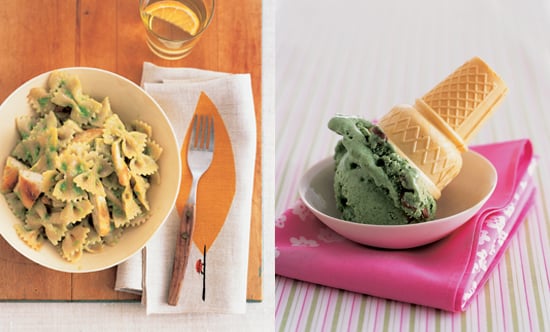 When thinking of healthy veggie-packed meals for their kids, moms don't usually put mint chocolate chip ice cream on their list. That's because they haven't tried Jessica Seinfeld's version, which just happens to be made with spinach puree. The children's cookbook author and mother of three created a revolution in the kiddie food world with her vegetable purees that work their way into a variety of recipes and ultimately into unsuspecting lil mouths. With St. Patrick's Day just a day away, we asked Jessica to share two of her favorite green-hued recipes for our holiday-themed eat your greens series.
Keep reading to see her recipes for the the ice cream and a pasta with pea pesto.
Ingredients
2 cups peas, fresh or frozen
½ cup grated Parmesan
½ cup pine nuts
2 medium cloves garlic
¼ cup extra-virgin olive oil
2 tablespoons water
¼ teaspoon salt
8 ounces whole-wheat penne or fusilli
Directions
1. For the pesto, blanch the peas in boiling water for 30 seconds, then shock them in cold water. Combine the peas and remaining ingredients in a food processor. Blend to form a thick sauce.

2. Season the chicken breasts with garlic powder, salt and pepper. Heat the oil in a skillet over medium heat. Brown chicken on each side until cooked through, 5-6 minutes per side. Cool slightly, and cut into 1-inch cubes.

3. Meanwhile, cook pasta according to package directions. Toss with pesto and chicken and serve.
Information
Category

Pasta, Main Dishes
Ingredients
1/2 cup spinach puree
1/4 teaspoon pure mint extract
3 cups nonfat plain Greek yogurt
1 cup confectioners' sugar
1 cup bittersweet chocolate chips
Directions
1. Place the spinach puree and mint extract in a mini-chopper and puree until very smooth.

2. In a medium bowl, stir the spinach mixture, yogurt, confectioners' sugar and chocolate chips. Freeze in an airtight container at least 2 hours until solid.

Serves 12
Information
Category

Desserts, Frozen