Jon Gosselin Confirms Girlfriend But Denies Engagement
Is Jon the New Kate?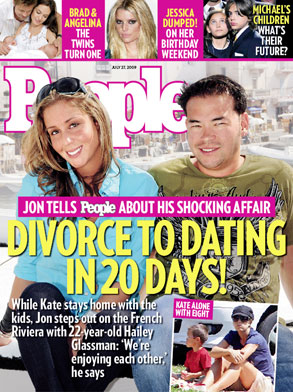 Last month, it was America's most famous mother of eight, Kate Gosselin, who graced the cover of magazines and made numerous news headlines. The outspoken matriarch of TLC's favorite family talked about her books, television show and the demise of her marriage to husband, Jon. Once the couple filed for divorce, they issued a joint statement saying they would not be speaking out publicly and asked for people to respect their privacy. Things simmered down until this weekend when Jon took a business trip France with his girlfriend, Hailey Glassman. He also talked to People about his new relationship and denied reports of an engagement. He said:

"I know that my decision to appear publicly with Hailey this weekend will be scrutinized, but I hope that people can see I'm a regular guy who is going through a very difficult time in [my] life and wants to move forward."
The daddy of twins and sextuplets has a children's clothing line offer from Ed Hardy and is now apparently granting interviews, even chatting with the paparazzi when he landed last night. Do you think the Gosselin parents are switching roles?