Juice Cleanse For Moms
Mom on a Cleanse? 5 Surprising Things Juice Might Teach You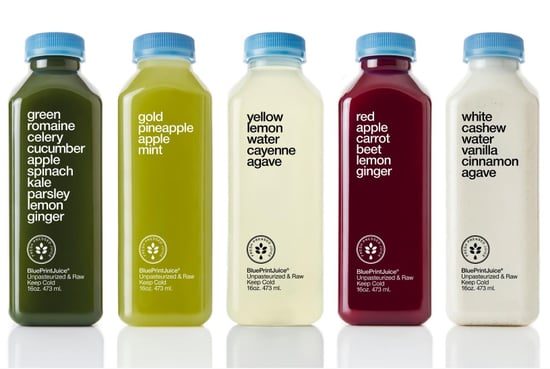 Before motherhood, before pregnancy, I went through a pretty intense health phase. We're talking daily hot yoga, a refrigerator stocked with veggies and fruit, a very active My Food Diary account, and a monthly three-day BluePrint Cleanse regimen. I was at my ideal weight, felt lean and strong, and I was a couple of months from getting married. Then came the wedding, the honeymoon, and four weeks later, a big fat positive!
Now, two-plus years and a crazy cute and superactive 17-month-old later, I've been losing and regaining those last seven baby pounds for months, am dedicated to my gym mostly because it has an awesome kids' program, and my fridge? Well, let's just say most of the nutritious stuff is earmarked for my daughter's growing body. So I recently decided to return to my old favorite: the juice cleanse. "We have a lot of new moms who do our cleanse," say the brains behind BluePrint Cleanse. "They love it because they don't have to cook or clean up for a few days, and they love that it's convenient to pop open a juice and get all the nutrients they need. It can also be a great jump start to healthy eating to help lose the baby weight!"
While BluePrint (available throughout the US for around $75 per day) isn't recommended for breastfeeding moms due to its calorie restrictions, I definitely suggest it to new moms looking to get their health back on track. After my cleanse, I was down five pounds and felt like I had readjusted my relationship with food in a profound way. I also learned that I have developed some pretty bad dietary habits since becoming a mom. Keep reading to find out the surprising revelations I had and why I highly urge formerly fit moms like me to try a juice cleanse, too.
5 Things I Learned From a Three-Day Juice Cleanse
I eat way too much of my daughter's meals and snacks. Just because she's a big snacker who prefers to tackle all car rides with a handful of Annie's Organic Snack Mix does not mean I need to join her. And all that yummy gnocchi, chicken, sweet potato, and cheese that she leaves on her dinner tray? I need to put it in tupperware or the trash — not in my mouth.
But I don't eat enough of my own. Planning three meals a day for my daughter plus dinner for my husband and me means I dedicate a lot of time thinking about other people's dietary needs and not my own. Unfortunately, that often means I'm making bad decisions sparked by immediate hunger or convenience.
I need to think ahead to simplify and healthify family meals. Like most moms, I'm constantly looking for foods that I can quickly prepare for my daughter, and yes, that can lead to lots of meals of chicken nuggets, turkey hot dogs, and pasta — all of which I inevitably nibble on, too. If I can make healthy foods in advance, they can last multiple meals and make us all healthier.
Don't step away from the fruit. My daughter is obsessed with delicious (and expensive) raspberries, blueberries, blackberries, peaches, and all exotic fruits, which also happen to be my favorite, too. Instead of skimping on these nutritious options for myself so she can get her fix, I'm going to start buying double. It's worth the cost.
Stress eating and drinking doesn't make me feel better. We've all been there. It's been a long day, week, or month, and don't you deserve that cheeseburger or ice cream cone or second glass of wine? Those indulgences are fine every once in awhile, but I've been guilty of making them an all-too-regular occurrence. Instead, I'm going to find new pleasures: a yoga class or a healthy smoothie . . . or maybe I'll just stick to one glass of wine!