Junk Food Tees
Trendtotting: Gear Up for Game Day with Junk Food!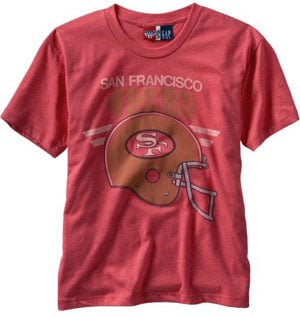 Die-hard football fans are rejoicing across the nation. 'Tis the season for tailgating, brat cooking, and pig skin loving. As is often the case, many parents will outfit their wee ones in their team's gear hoping to pass on the team pride from generation to generation.
Rather than sporting a brand spanking new jersey with "Brady" or "Manning" on the back, go old school and spoil your tot with a retro style Junk Food tee ($27) from Gap Kids that feels just as soft as a 20-year-old t-shirt would.