Kailey Caldwell Designs Diabetic Dress
Mommy's Lil Helper: Help a Sister Out!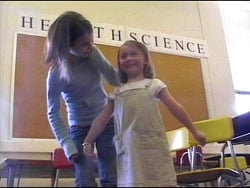 Eleven year–old Kailey Caldwell from Boise, Idaho helped her five-year-old sister out by designing a dress for her diabetic needs. The elementary student crafted the frock to accommodate her sister's insulin pump.
Kailey told NBC what prompted her invention. She said:

They have a little belt with a pack on them that you can wear with skirts and pants, but when you try and wear them with a dress it makes a bulge and it doesn't feel very comfortable and you still have to lift your dress up to give yourself insulin.
To see what else this big sister has done for her sibling,
.
Seeing some potential in her creation, Kailey packed up her innovation and took it to the Invention Convention in Boise where she took third place! Obviously excited about the potential of the dress, she is now considering patenting the design.
Clearly a champ for her sister's cause, last year the young pioneer organized a walk-for-diabetes where her school raised $1,800 for the American Diabetes Association.
What's the nicest thing you've ever done for your sibling?