Keeping Kids Safe During Flu Season
My Tiny Hands: Kid Friendly or Are You Kidding?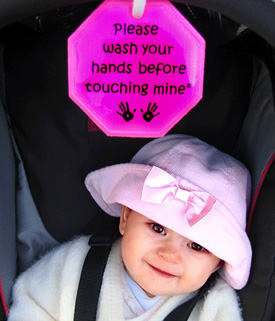 There's no harm in being extra cautious during My Tiny Hands 'Please Wash" Sign ($8) was created by a mom who was tired of strangers reaching into her tot's stroller to stroke her hands and face. The silicone rubber signs attach directly to strollers and car seats, offering a warning to passersby. Is the sign too much or just what the doctor ordered during flu season.