Kelly Preston Disucsses Death and Baby Benjamin
Kelly Preston Discusses Healing and Baby Benjamin in Health Magazine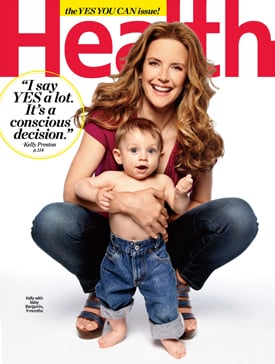 It's been nine months since Kelly Preston and John Travolta welcomed lil baby Benjamin to their grieving family, and now the mama is speaking out. Appearing on the cover of the September 2011 issue of Health magazine, the actress and mom to Ella, 11, discusses how her religion helped her cope with the couple's son Jett's death two and a half years ago, the joy their new baby brings to their lives, and more. Kelly Preston told Health:
On how she got through the death of her son, Jett: "To be honest, [it was] the Scientology center. I don't know if I would have made it through without it."
On yearning to be a mom: "I've always wanted to be a mother, ever since I was 11 . . . I was doing commercials for thousands of dollars, but I'd still babysit for $3 an hour just because I loved it."
On advice to her former self: "Don't sweat the small things. Love your kids like it could be the last moment."
On the birth of her son, Benjamin: "We [had been trying] for quite a few years . . . When I found out I was pregnant, I was floored. I'd snuck out of bed and then came back and woke Johnny up in bed. We both started crying. It was wonderful."
On her surreal life with John Travolta: "I'll be sitting there [in our Florida home] doing something really normal with the kids and then all of a sudden I hear, 'Whoosh!' and see the lights of the airplane, and he's like, 'Honey, I'm home!"