Our mouthwatering Brain-Boosting Breakfast series continues with celebrity chefs and restaurateurs creating healthy, brain-boosting breakfast ideas to help keep kids going throughout the day. Today's quick breakfast for on-the-go families comes from Kerry Heffernan, executive chef of New York City's South Gate restaurant and a guest judge on the most recent season of Top Chef: All Stars.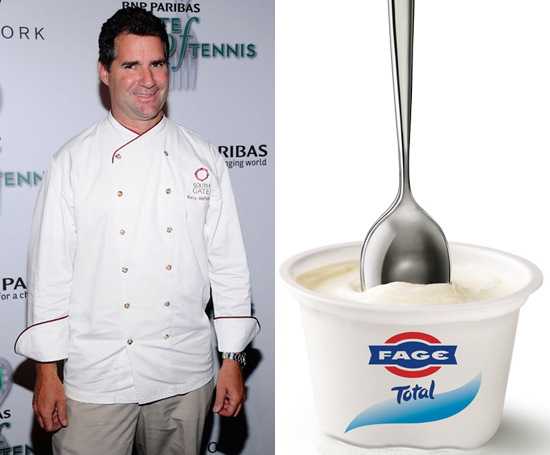 School mornings can feel like a whirlwind with everyone rushing about to get dressed, packed, and fed before heading out of the house. While the idea of preparing a picture-perfect hot breakfast is ideal, it isn't always feasible given the early hour. Kerry Heffernan knows a thing or two about that. The sophisticated meals he creates at NYC's popular South Gate restaurant are beautiful enough to be featured in magazines, but at home, the busy father of two teens and a newborn knows things need to be quick. Here are his tips for making breakfast count in a matter of minutes.
My quick and easy kid-friendly recipes may sound a little pedestrian, but hear me out. The Greek yogurt Fage is nothing short of miraculous. It lacks the rennet/acid tinge of other yogurts and since it has been "drained" of excess water, it has extraordinary natural properties of viscosity, and it's very high in protein. This yogurt provides a delicious base, to which you can add just about anything to make a heartier breakfast, like nuts, fruits, granola, etc.

So how do you choose? Well depending on how you pick your poison, 0 percent is a bit lean and it's the most acidic of the bunch; "Total" is wonderful if you can tolerate it on a daily basis, but it's a bit rich for even me, so I go for the 2 percent. Get the one-quart tub and "excavate" 5-6 oz. from one side and place in a bowl (this encourages further draining, so the next day pour off any accumulated water and remaining mass gets even better). Whip with a spoon for about 10 seconds to make it even creamier.

If you or your child is used to or prefers a bigger breakfast, add nuts and/or granola to make a heartier meal. Pretoast the nuts and macerate the fruit ahead of time, and mix up what you put in the yogurt as the season offers up different fruit. . . . Once you have those few things, making breakfast does not take more than three minutes of active preparation, and it yields an eye-opener with a very high ratio of protein and little fat.
Keep reading for two more ways Chef Heffernan transforms an ordinary cup of yogurt into a tasty breakfast, and his bubbly morning beverage that will wake kids up in time for school!
For a more fruity breakfast:
Add 2-3 oz. fresh fruit . . . in season. I use raspberries, blackberries, blueberries, stone fruits, etc. You can sweeten it a bit with a tablespoon of very fragrant honey. If the berries are bruised, add a tablespoon or two of sugar, the tiniest pinch of salt and put in the fridge overnight or microwave for 20 -30 seconds to liven them up.

An interesting variation on this is to add a few leaves of sweet herbs, lemon verbena, even basil or tarragon. It's a great way to add fresh produce and amazing layers of flavor to an already delicious and healthy breakfast.

In lieu of caffeinated beverages, combine acai, blueberry and/or pomegranate juice with freshly opened and chilled seltzer to make a "breakfast soda." It's refreshing and super healthy and helps wake me up better than coffee.