Make your friends green with envy this St. Patrick's Day when your little ones start eating peas and green beans. Sure, the day can be filled with tasty sweet treats [1] — never mind a Shamrock Shake or two — but it's also a great day to convince tots to eat their greens — green vegetables, that is. We've rounded up our favorite kid-friendly green veggie recipes (including a spinach-packed ice cream) to help get you started. Hey, you never know, this could be the start of a mealtime makeover!
Crispy Green Beans
Sometimes an accident can lead to an invention! While baking some green beans, we got occupied with baby, and left the veggies in the oven too long. The result was so delicious, we just had to share! This crispy snack [2] requires just two ingredients and a few minutes to make. Kiddos will love the french fry texture of the veggies that mom can serve alongside burgers for a more healthful dish.
Weelicious's Peas in a Pop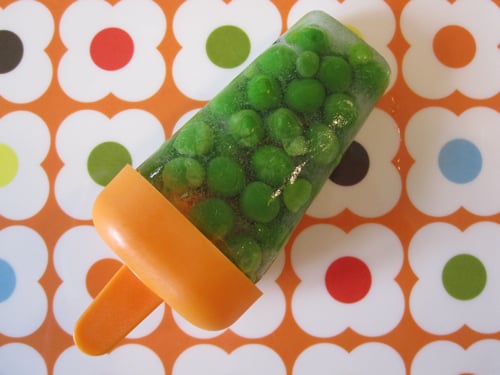 Sometimes it just takes a slightly different presentation to entice tots to try something new. Weelicious's Catherine McCord shared five of her favorite green vegetable recipes, including these peas in a pop [3] that might look funny, but kids will gobble them up!
Jessica Seinfeld's Pea Pesto and Mint Chocolate Chip Ice Cream
Jessica Seinfeld created a revolution in the kiddie food world with her vegetable purées that work their way into a variety of recipes, and ultimately into unsuspecting lil mouths. The children's cookbook author and mother of three shared two green-hued recipes: Pea Pesto and Spinach-packed Mint Chocolate Chip Ice Cream [4].
Spinach Pesto Grows Little Muscles
Popeye's favorite vegetable isn't always tops on little ones' lists of favorite foods. The leafy vegetable may be known for supplying vast amounts of iron, calcium, and rich antioxidants, but its overall texture can scare away the kids. By transforming it into a sauce [5] to accompany a favorite pasta dish, the vegetable's nutritional value remains intact, and wee ones will be begging for more. We added some fresh lemon (both juice and peel) to some baby spinach, pine nuts, and Parmesan cheese to create a pesto that my son helped blend to perfection.
Get Some Muscles From Brussels Sprouts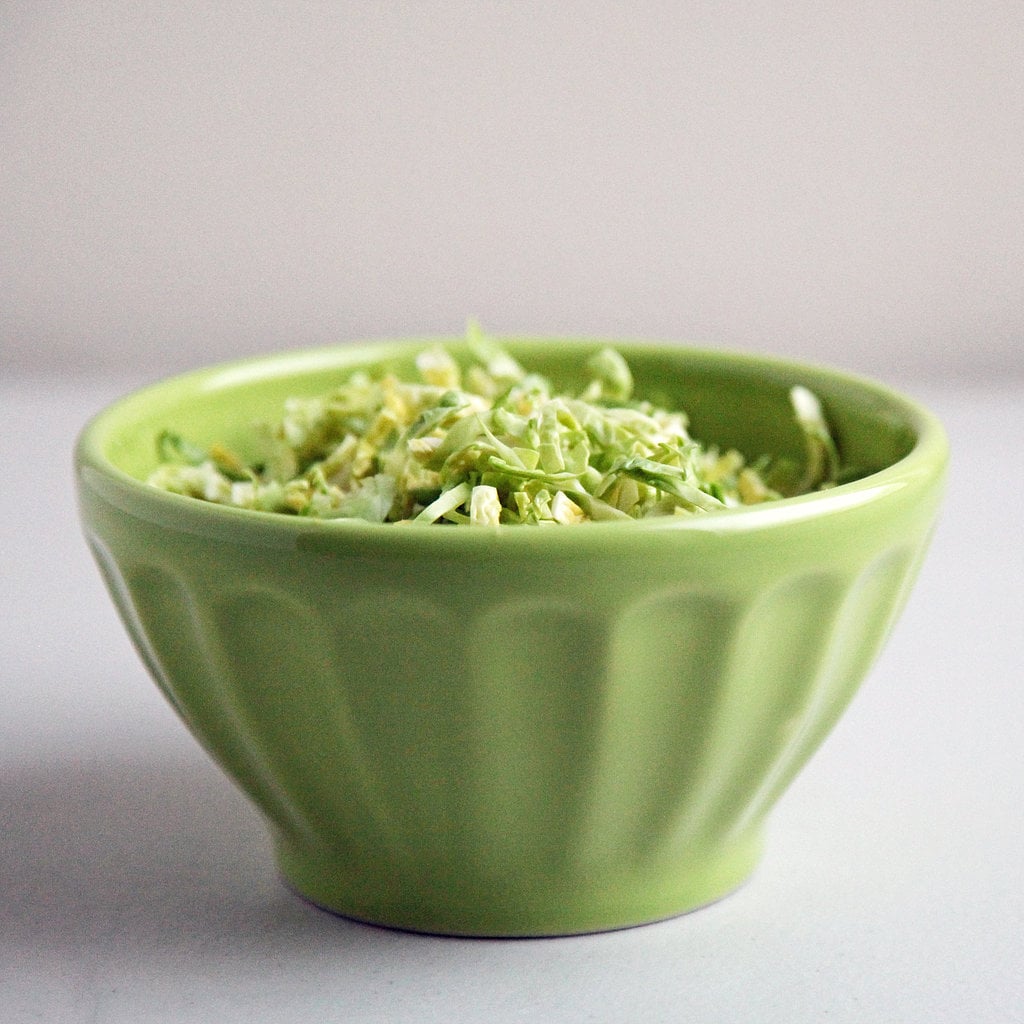 Brussels sprouts get a bad rap because they are often overcooked, which makes them sulfurous and hard to stomach. Children can also be intimidated by their cabbage-like appearance. The round lil goodies are packed full of vitamins A and C, as well as folic acid and fiber, making them great for the digestive system. To get my tot to give them a chance, I deconstructed the bulbous greens [6] by shredding them prior to placing them in the roasting pan. The result: a side dish that even a picky eater is willing to try!
Kale Chips
The hottest leafy green at the farmers market, kale is currently in the spotlight. A reader made kale chips [7] from her latest bounty and shared the recipe with us.
Annabel Karmel's Green Vegetable Recipes
Annabel Karmel told us that, "It's a good idea to introduce your baby to the flavor of green vegetables early on. However, sometimes they find the taste of some vegetables too strong, so it can be a good idea to mix stronger tasting vegetables like broccoli together with potato or sweet potato. You could also make this purée [8] using other green vegetables like spinach or zucchini. Frozen vegetables are often more nutritious than fresh, as they are frozen within hours of being cooked, so it's fine to use vegetables like frozen peas to make your baby's purées."
Rick Bayless's St. Patrick's Day Green Beans For Kids
Never thought you'd see your little one pick up a green bean and eat it? Maybe it was never properly prepared! We asked award-winning chef, Top Chef Masters champion, and father of one Rick Bayless to share a tot-friendly green vegetable dish with us for the holiday. He's created a balsamic green beans recipe [9] meant to entice kids with its sweet and sour taste.
Zucchini Boats Set Little Taste Buds to Sea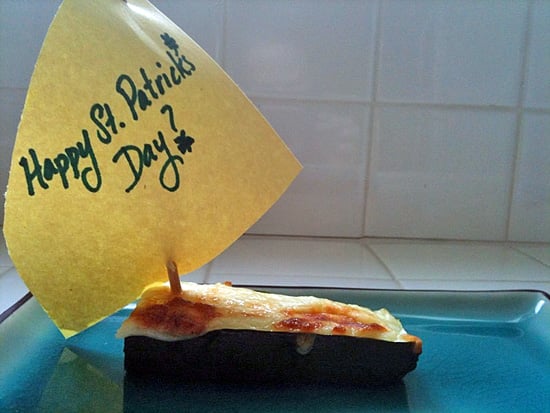 Set your child's taste buds out to the Celtic Sea with an easy vegetable recipe that only requires two ingredients! The steps for these zucchini boats [10] are so simple a tot can put their chef's hat on and get cooking with minimal assistance from mama.