Everyone screams for ice cream in the summertime, especially little kids. And while we love the traditional scoop on a cone, there are plenty of other ways to devour this delicious treat. You can blend it into a shake, sandwich it between two cookies, and so much more. From the classics to the creative, we've rounded up our very favorite ways to enjoy ice cream with your little ones while the weather warrants it!
Sources: Two Peas & Their Pod [1], Keep It Simple, Keep It Fresh [2], Tablespoon user Cindy Ensley [3], Tablespoon [4], Chocolate Covered Katie [5], and Mel's Kitchen Cafe [6]
Cereal and Milk Popsicles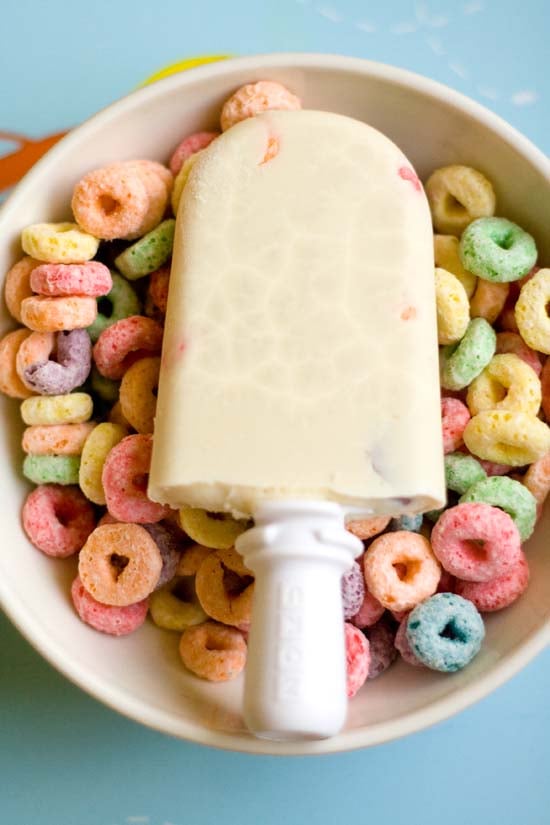 Sure to delight your little ones, these cereal and milk popsicles [7] are inspired by NYC's famed Momofuku Milk Bar.
Source: The Little Foodie [8]
Mint Ice Cream Cake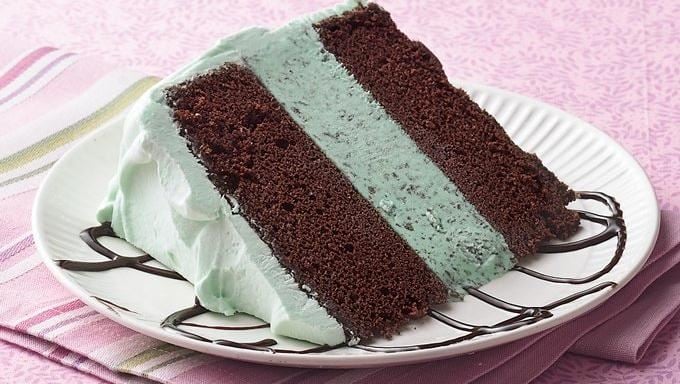 While this recipe uses mint ice cream [9], you can easily swap it out for your family's favorite flavor.
Source: Tablespoon [10]
Salted Caramel Brownie Milkshake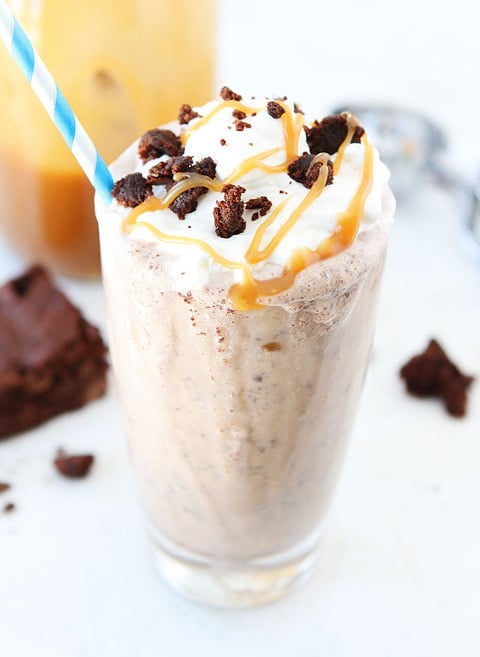 Salted caramel is one of our favorite sweet treats, and Two Peas & Their Pod has made it even better by incorporating it into a brownie milkshake [11]. Drool-worthy!
Source: Two Peas & Their Pod [12]
Vanilla Berry Brownie Ice Cream Sandwiches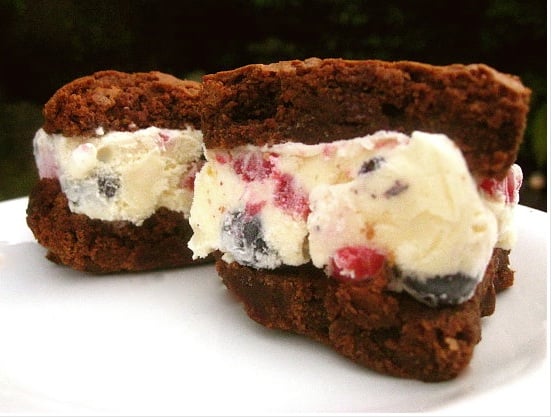 The bright berries in these vanilla berry brownies [13] are the perfect addition — with a pop of delicious color — to this twist on the traditional ice cream sandwich.
Source: POPSUGAR Food [14]
Sugar Cookie Ice Cream Sandwiches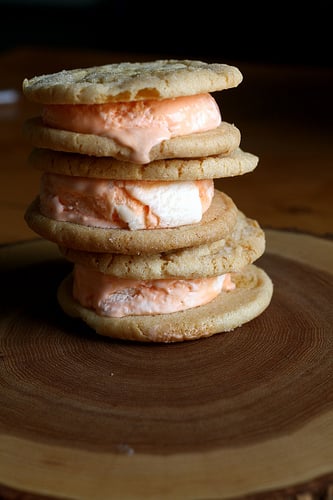 While Joy the Baker stuffed her sugar cookie sandwiches [15] with orange sherbet, you could switch up the flavor to appease your kids' palates.
Source: Joy the Baker [16]
Roasted Banana Pudding Milkshake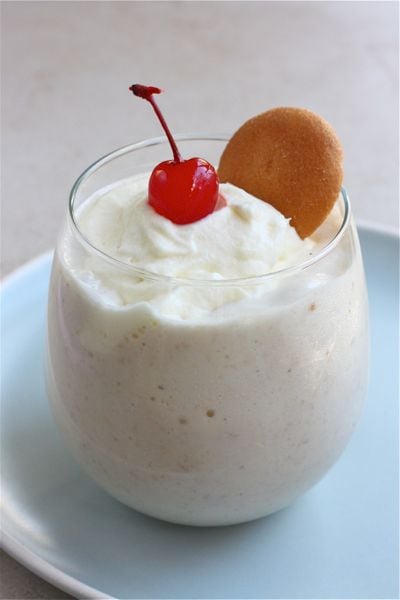 Transform the Southern classic of banana pudding into a sippable shake [17], thanks to A Cozy Kitchen.
Source: A Cozy Kitchen [18]
S'mores Ice Cream Sandwiches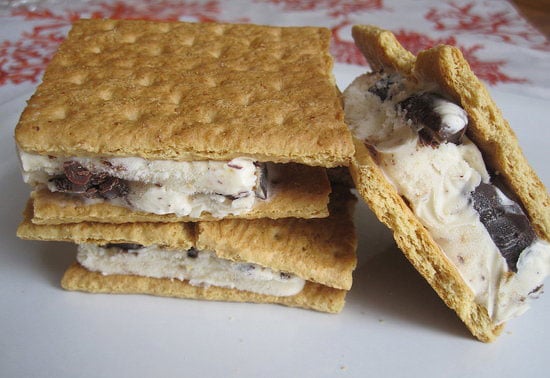 The combination of graham crackers, chocolate, and marshmallow is a campfire classic, but when you add ice cream to the mix, your kiddos will be begging for s'more of these delectable decadent ice cream sandwiches [19].
Source: POPSUGAR Food [20]
Eskimo Pies
Why buy this classic ice cream treat [21] when you can easily whip it up yourself?
Source: Serious Eats [22]
Tom Thumb Milkshakes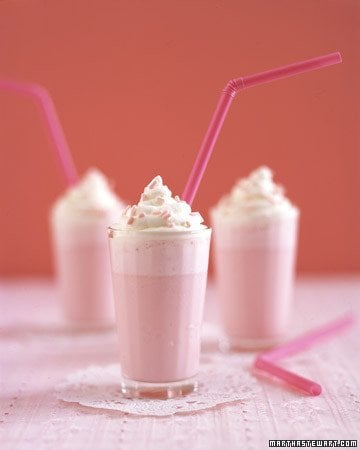 Leave it to Martha Stewart [23] to concoct the perfect mini milkshakes [24] that are sure to delight your little ones (and force portion control on mom and dad — not an altogether bad thing!).
Source: Martha Stewart [25]
Mint Ice Cream Cone Sandwiches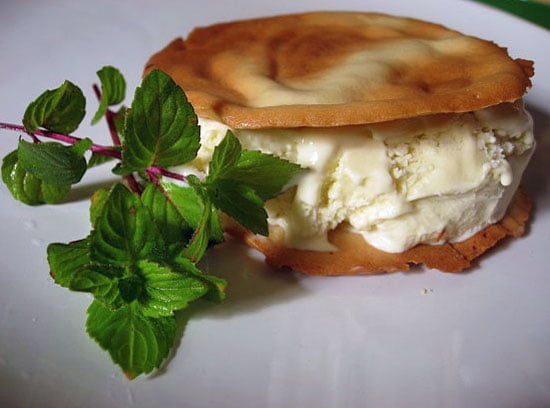 Use fresh mint to take these mint ice cream cone sandwiches [26] to the next level.
Source: POPSUGAR Food [27]
Heath Bar Ice Cream Pie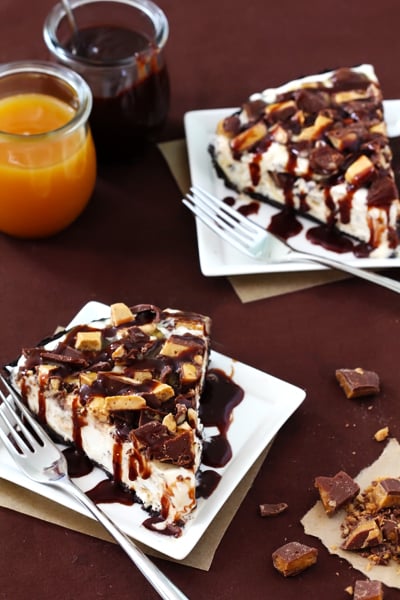 It doesn't have to be Fall for your family to chow down on a delicious, chocolatey pie [28].
Source: Gimme Some Oven [29]
AmeriCone Ice Cream Sandwiches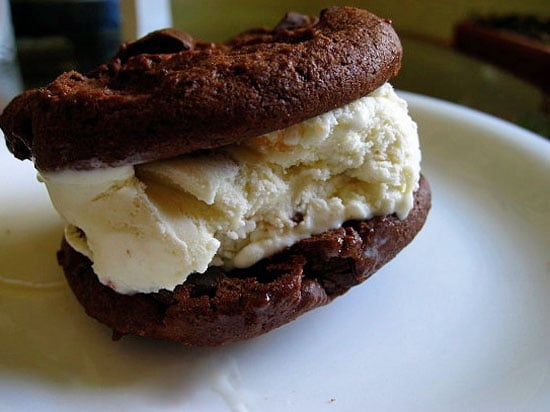 Live the AmeriCone dream with ice cream sandwiches [30] that use the Ben & Jerry's flavor, packed with caramel swirls and chocolate-covered waffle cone pieces, as their sensationally sweet filling.
Source: POPSUGAR Food [31]
Banana Cream Pie-sicles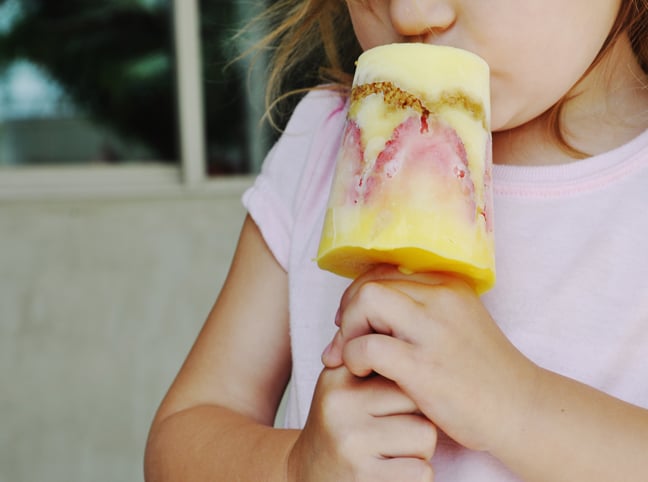 These banana cream pie-sicles [32] even have a graham cracker crust.
Source: Momtastic [33]
Birthday Cake Milkshake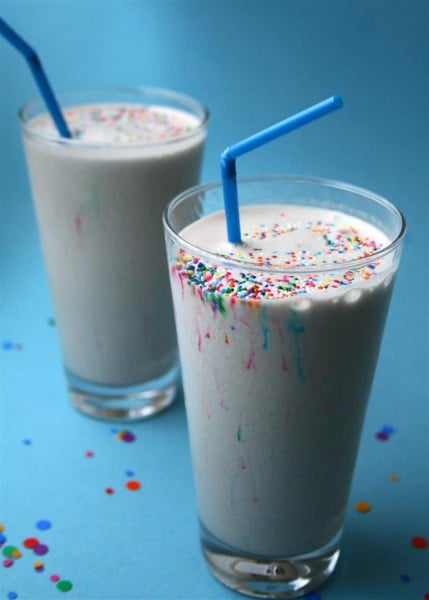 It doesn't have to be your little one's birthday to indulge in a birthday cake milkshake [34] — though it would be a fun alternative to cake if the big day is on the horizon.
Source: Colourful Palate [35]
Oreo Ice Cream Sandwiches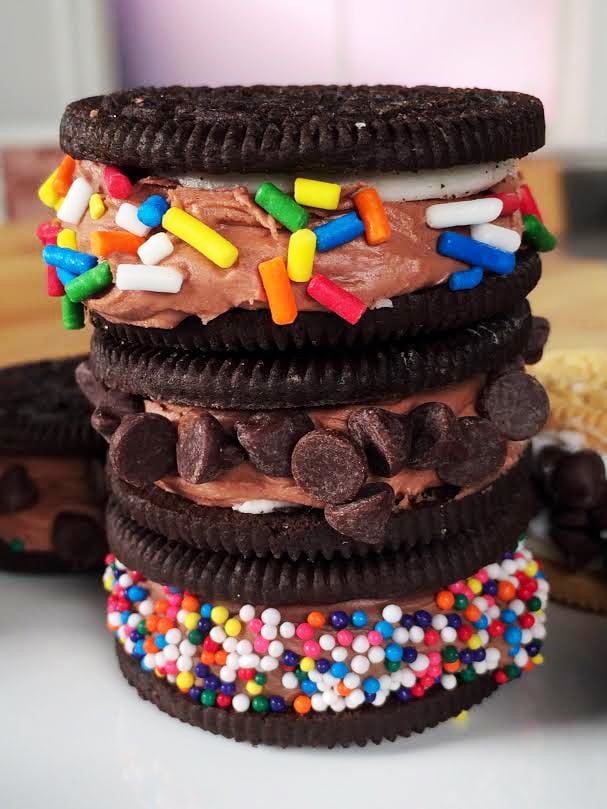 There are many ways to eat an Oreo. For example, turn it into a fun frozen treat [36].
Source: POPSUGAR Food [37]
Berry Ice Cream Pie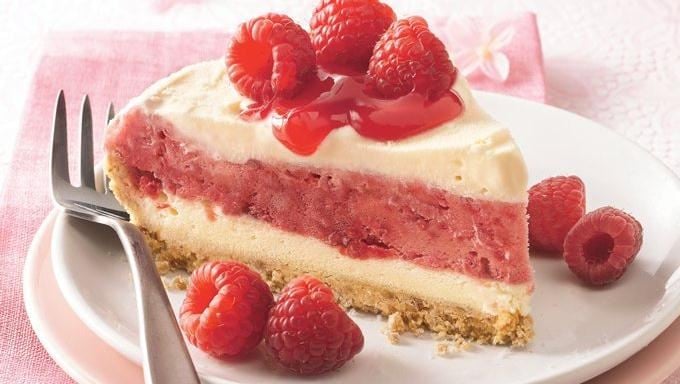 Summer's best treats come together for a fruity, kid-friendly dessert [38].
Source: Tablespoon [39]
Creamy Nutella Popsicles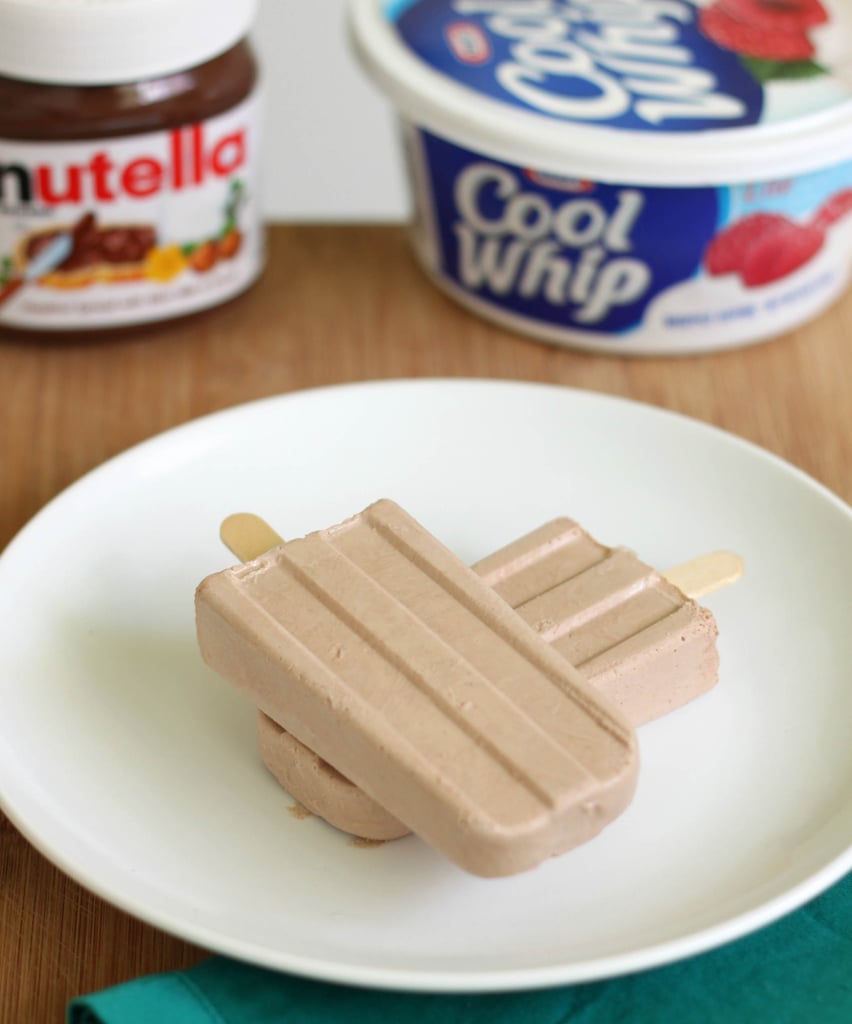 Creamy Nutella popsicles [40] combine Cool Whip and Nutella to make a creamy, rich, but light dessert.
Source: 52 Kitchen Adventures [41]
Frozen Peanut Butter and Chocolate Ice Cream Sandwiches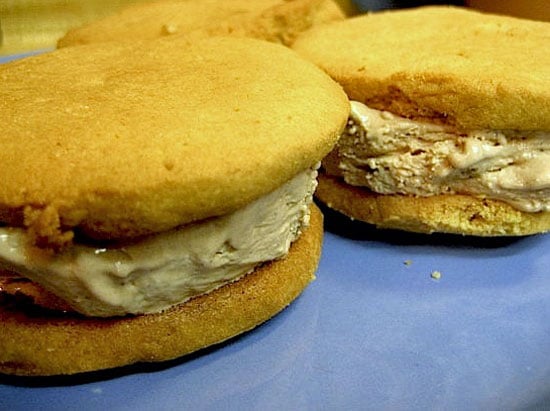 Little peanut butter fans will delight in cooling down with a frozen peanut butter cookie and chocolate ice cream sandwich [42].
Source: POPSUGAR Food [43]
SweeTarts Milkshake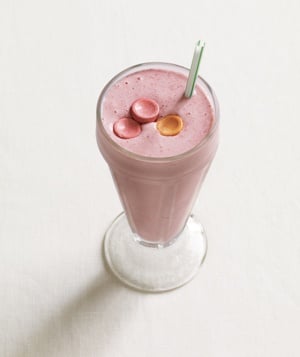 Incorporate a little tang into your shake with the classic candy SweeTarts. Real Simple's recipe for a SweeTart shake [44] couldn't be easier.
Source: Kana Okada/Real Simple [45]
Lucky Charms Ice Cream Sandwiches
You won't have to look far for the pot of gold in these Lucky Charms sandwiches [46] created by the team over at The Kitchn. Even if they're not a breakfast cereal staple in your house, they sure do make a great dessert-time treat!
Source: The Kitchn [47]
DIY Drumsticks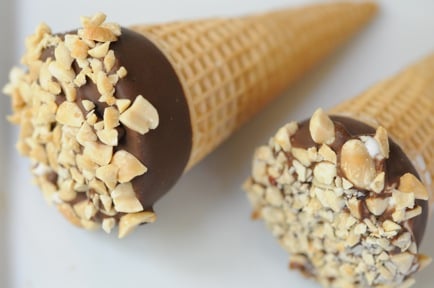 If you make your own chocolate-coated ice cream cones [48], you won't be tempted when the ice cream man drives down the street.
Source: Cupcakes and Cashmere [49]
Toasted Marshmallow Milkshake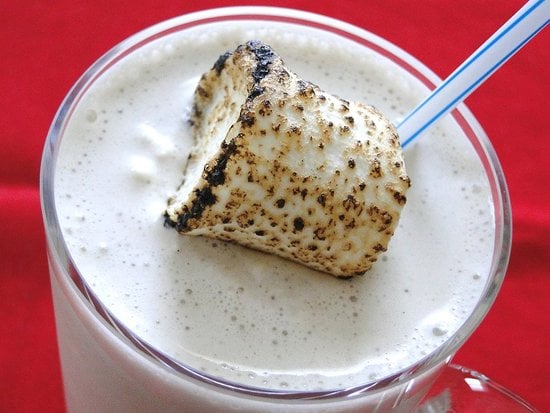 If your kids are s'mores fans, there's no doubt they'll jump for joy over Joy the Baker's toasted marshmallow milkshake [50] recipe. Divine.
Source: POPSUGAR Food [51]
Wafflewiches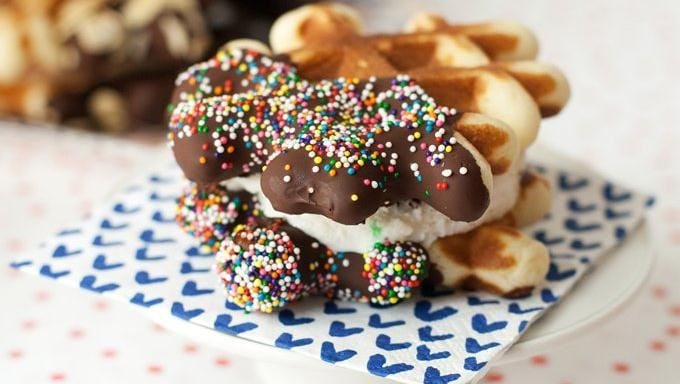 Try this easy-to-eat twist on waffles a la mode [52].
Source: Tablespoon user Cindy Ensley [53]
Strawberry Nutella Milkshake
Indulge the Nutella lover in your household with Two Peas & Their Pod's strawberry Nutella shake [54] — yes, please!
Source: Two Peas & Their Pod [55]
Gluten-Free Ice Cream Sandwiches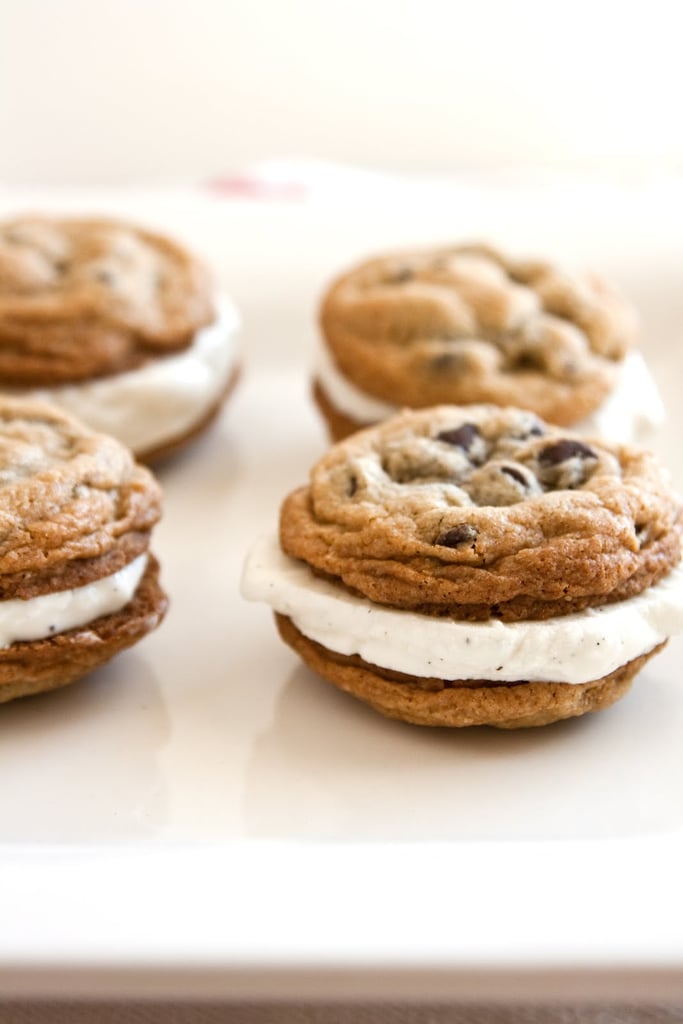 Kids with — or without — celiac disease will love these gluten-free treats [56].
Source: Keep It Simple, Keep It Fresh [57]
Ice Cream Cookie Cake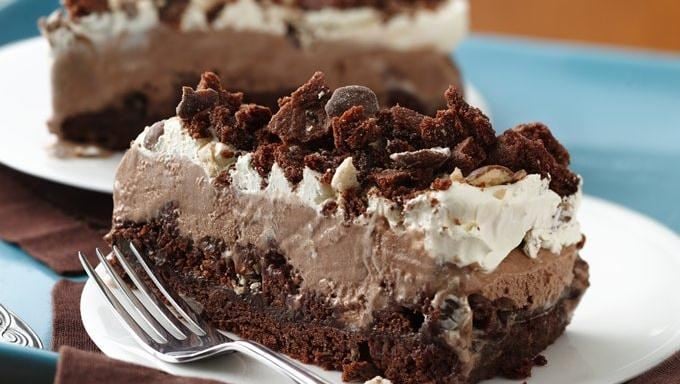 Replicate a classic ice cream cake with this supersimple recipe [58].
Source: Tablespoon [59]
Greek Yogurt Berry Smoothie Pops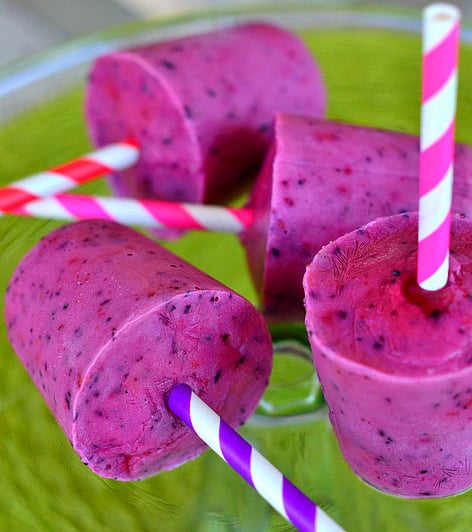 Mom on Time Out's Greek yogurt-berry smoothie pops [60] use frozen berries to create a healthy and delicious treat.
Source: Mom on Time Out [61]
Samoa Popsicles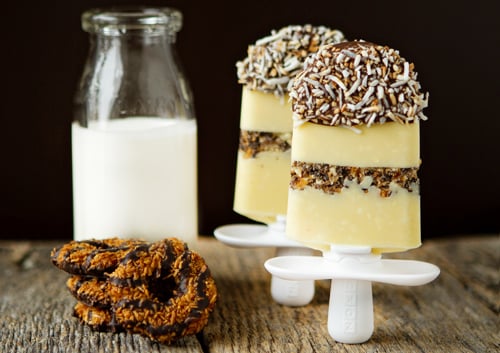 In the rare event that you still have Girl Scout cookies to spare, Samoa popsicles [62] are a decadent dessert treat!
Source: My Baking Addiction [63]
Chocolate Mint Brownie Milkshake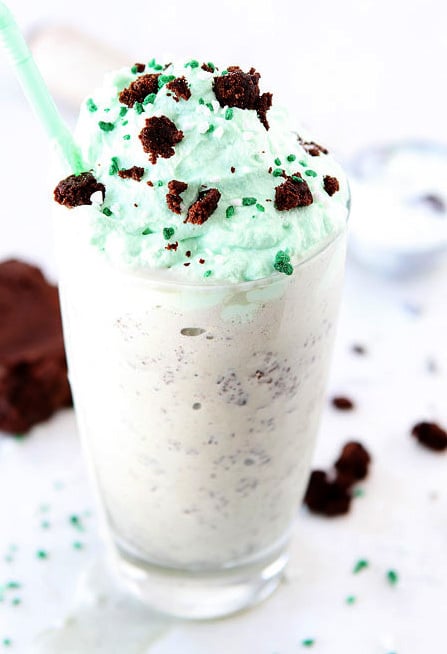 A chocolate mint brownie milkshake [64] combines just the right amount of refreshing mint and rich chocolaty brownie chunks.
Source: Two Peas & Their Pod [65]
Frozen Banana Peanut Butter Chocolate Chip Milkshakes
Quit monkeying around and get your tots on board for a round of frozen banana peanut butter chocolate chip milkshakes [66].
Source: The Kitchn [67]
Ice Cream Candy Shakes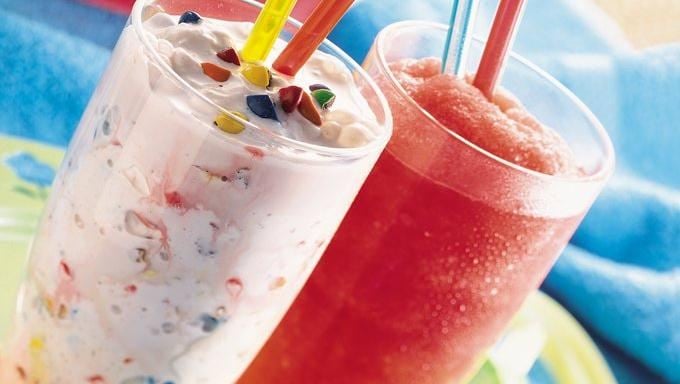 You can use any of your child's favorite candy to whip up this sweet drink [68].
Source: Tablespoon [69]
Cookie Dough Ice Cream Sandwich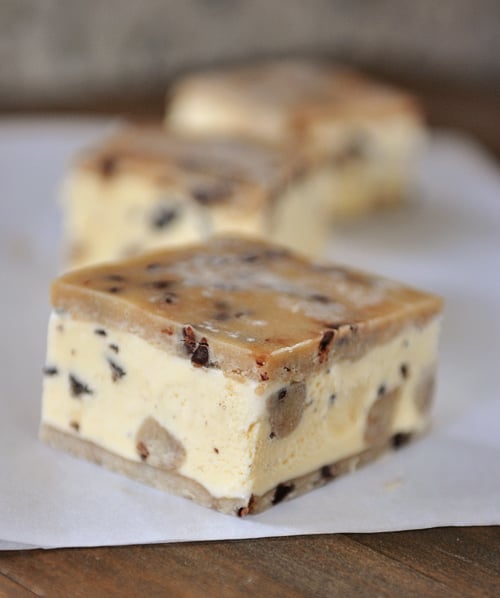 We know we try to keep kids from sneaking raw cookie dough, but this egg-free recipe [70] makes it completely safe to eat.
Source: Mel's Kitchen Cafe [71]
Red Velvet Ice Cream Sandwiches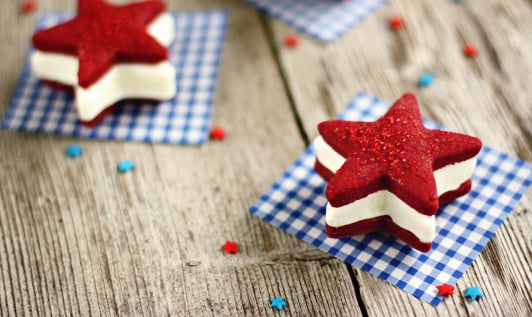 The star-shaped red velvet shortbread cookies and cream cheese ice cream that make up these patriotic ice cream sandwiches [72] could turn anyone into a patriot — on July 4 or any day of the year.
Source: A Farm Girl Dabbles [73]
Sunday Sundae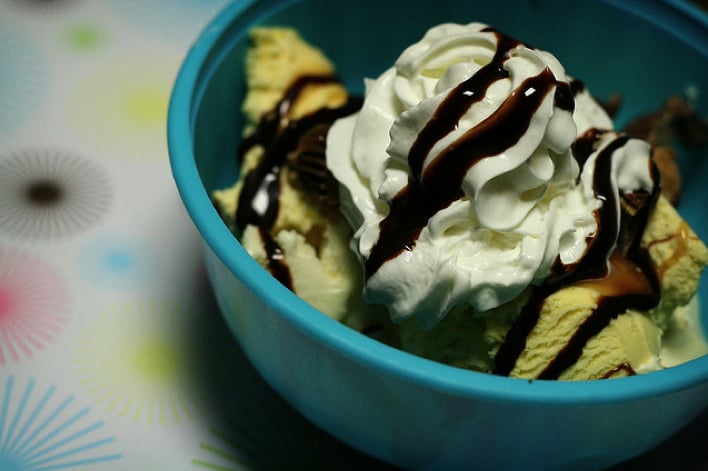 If your tots keep their inner monster hidden all weekend, add some extra sweetness to Sunday Funday by making midday homemade sundaes with their favorite toppings. And then consider a trip to the park to work off all that sugar.
Source: Flickr user ginnerobot [74]
Ice Cream Pancakes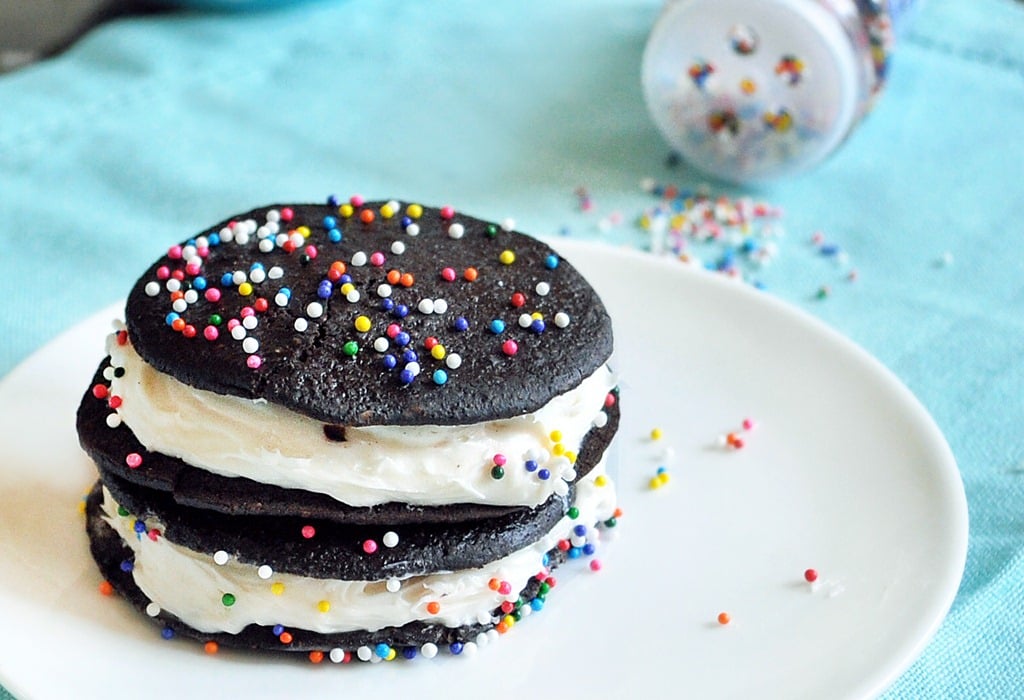 Who says you can't have ice cream for breakfast? Indulge in this sinfully sweet breakfast [75] on a Sunday morning or one night for dessert.
Source:Chocolate Covered Katie [76]