Kid-Friendly Mocktails
Forget the Shirley Temples, and Mix Up a Fresh, New Mocktail
Ask almost any parent the most stressful part of their day, and they're likely to mention something about mealtime. Whether you're just not a natural chef to begin with, or you're nervous about that your tot won't eat what you just slaved over the stove creating, feeding our families is easily one of the hardest times of the day. But if you spend just a few minutes watching Patricia Wong's Farm to Table Baby Mama videos, you'll see just how simple it can be. The stunningly shot series — it's part of a partnership with PBS — focuses on tasty recipes that are fresh, organic, and lovingly made for Wong's two kids. With a goal of introducing tots — even the youngest ones — to a wide variety of tastes and flavors, she's instilling confidence in novice chefs everywhere. "My whole approach to cooking for my family is to create beautiful, fresh, and tasty foods and to not be afraid to introduce unique flavors to them," Wong said. "As someone with a passion for food and cooking and also being a mom, my goal is to open their mind to a world of new tastes, flavors, and textures. And now she's instilling confidence in novice cooks everywhere.
Her latest demonstration, a refreshing beverage for little partygoers, was created by none other than a mixologist. According to Wong, "My family and I went to a friend's birthday party where she had a famous LA mixologist Matthew Biancaniello teach a mixology class. He made the most beautiful nonalcoholic drink for my son — sparkling water with fresh raspberries, ginger, and sage. My son took a sip and loved it!"
After one taste, Wong was sold. "It was so fresh, where you could taste real raspberry flavor with subtle hints of sage and ginger," Wong recalls. "These two ingredients usually have such strong robust flavors that children (and many times adults!) do not appreciate, however, the ingredients were added in such a subtle and delicious way. I was so inspired and wanted to know more about making such beautiful drinks. I contacted Matthew, and he shared his delicious recipe with me. This is my adaptation of it. I think it's perfect for parties, birthdays, or just because."
Watch the video above, and see the recipe below, because the littlest guests at your Oscars party this weekend deserve a drink of their own, too!
Fresh Raspberry, Sage, & Ginger Soda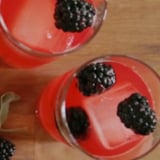 Ingredients
2-3 ounces sparkling water
3/4 ounce fresh lemon juice
3/4 ounce agave syrup (1:1 ratio of water to agave)
1/8 ounce fresh ginger juice
5 raspberries or blackberries
3 sage leaves
Directions
Mash everything except sparkling water. Then add sparkling water in a shaker with ice, and shake and strain into a glass with ice, and garnish with blackberries on top. For an adult version, replace the water with gin. Cheers!
Information
Category

Drinks, Mocktails

Cuisine

North American