They're almost too cute to eat! Over the years, Peeps — the marshmallow treats shaped like little chicks — have gained a cultlike following. And while the Easter favorites are fun to eat, they also make great crafting supplies. So gather up the kids and get started on some fun holiday Peeps crafts — just keep an eye on your little crafters, as we want to be sure they don't eat up all of their supplies!
Racing Peeps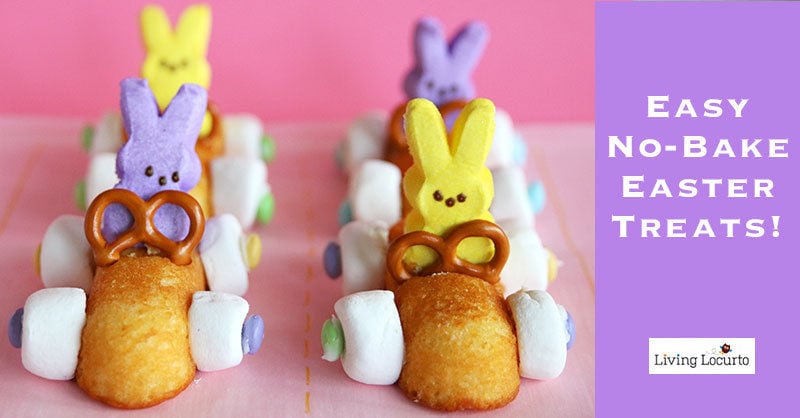 Building these no-bake racing Easter rabbits will become one of your kids' favorite Spring traditions.
Hula Bunny Peeps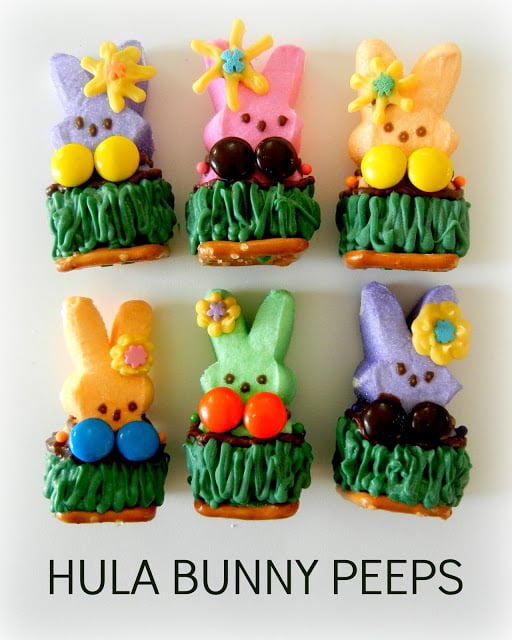 For the ultimate Peeps creation, try your hand at making these adorable hula bunny Peeps [1].
Skateboarding Peeps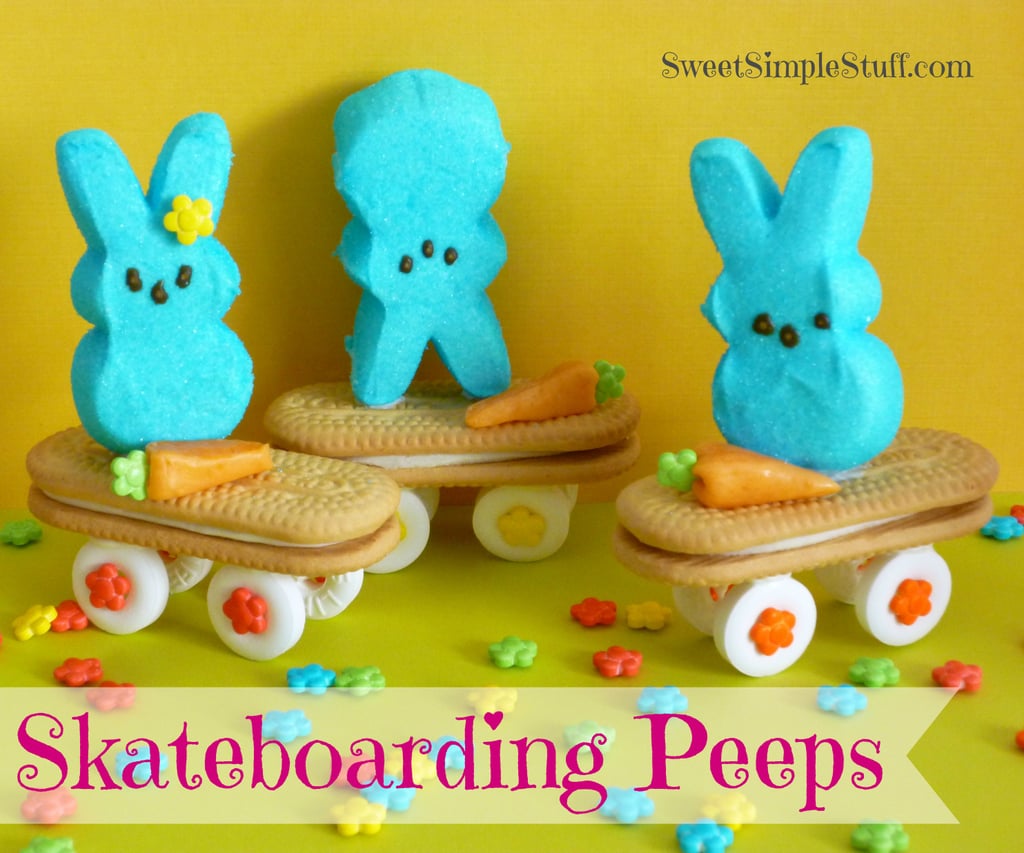 Peeps just got even cooler now that you're little ones can see all of their talented skateboarding moves!
Peeps Wreath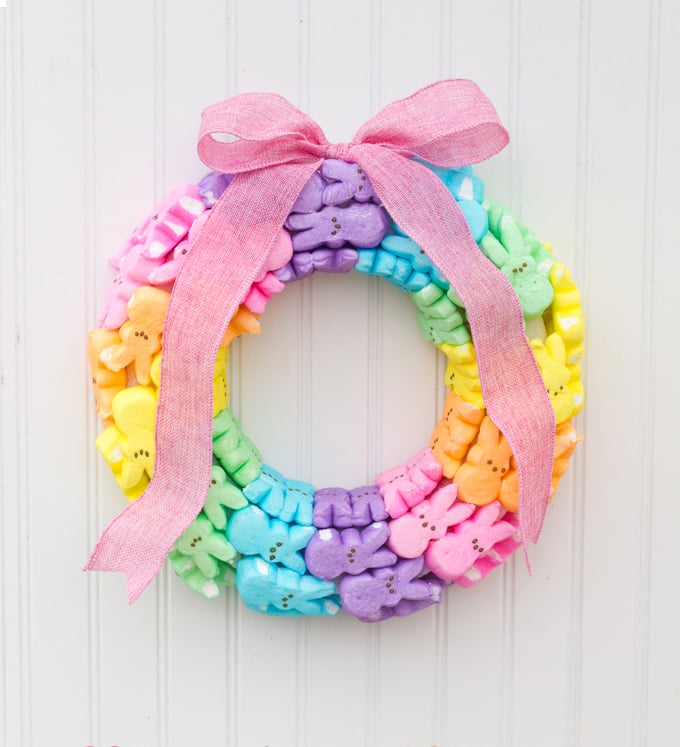 Welcome guests to your home as sweetly as possible with a Peeps Wreath [2]. With just an embroidery hoop, ribbon, glue, and peeps, you've got yourself a festive way to celebrate the season.
Packaged Treats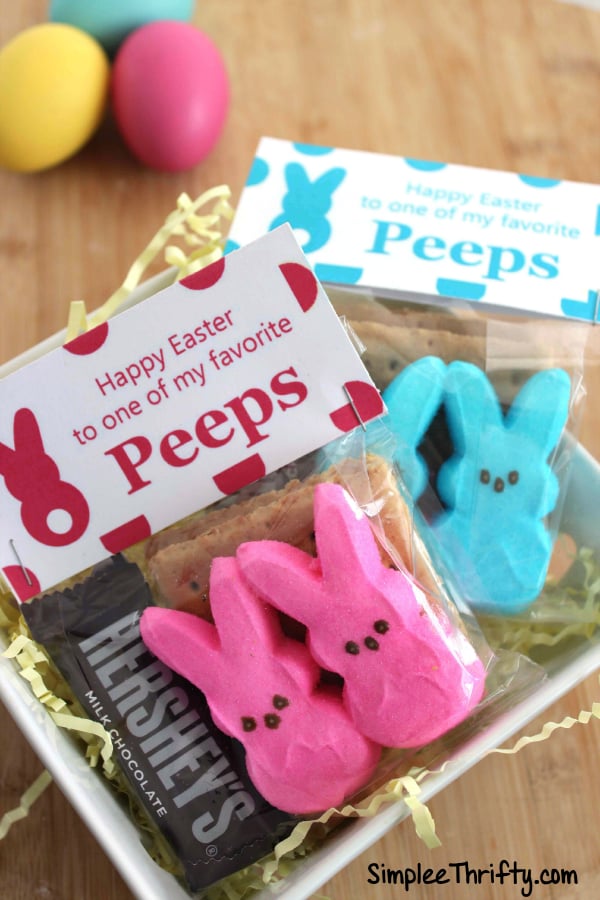 Whether your little one wants to hand these goodie bags out to his or her class or save them as an Easter party favor, these sweet treat bags make for a festive DIY [3] project
The Avengers Peep Pops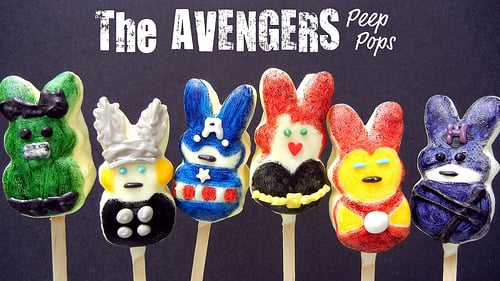 The only way to make Peeps anymore lovable? Transform them into your little one's favorite Avengers hero!
Peter Pearly Tail Sticks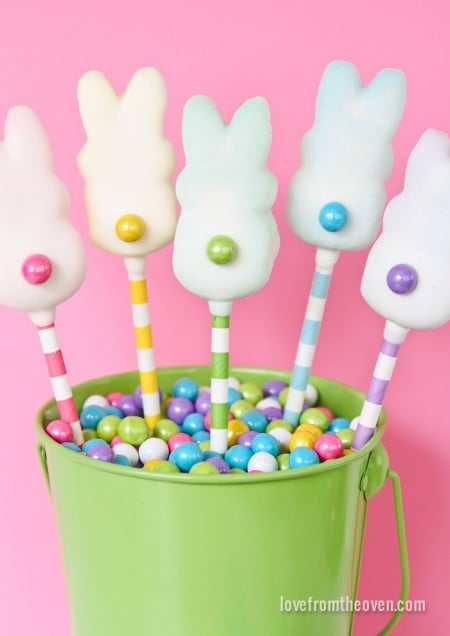 Combine shimmering candy tails, colorful striped paper straws, and white chocolate-dipped Peeps for the ultimate Easter party treat.
Peeps Pudding Cups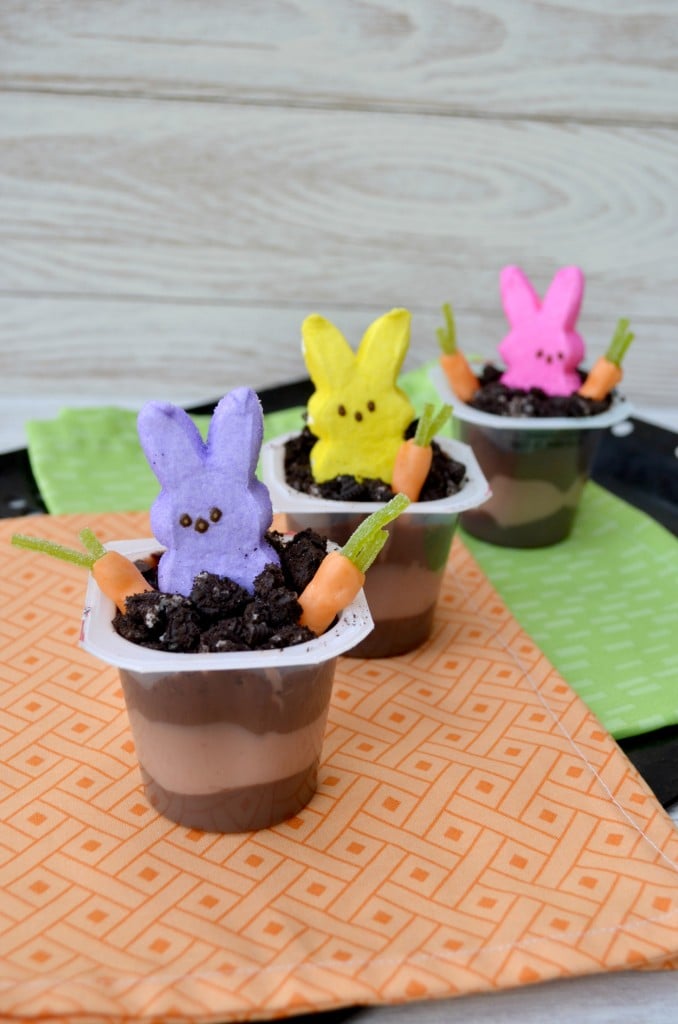 Let your Peeps enjoy the Spring in their very own gardens as they dig up yummy carrots from the patches of Oreo dirt.
Don't Eat the Peep Game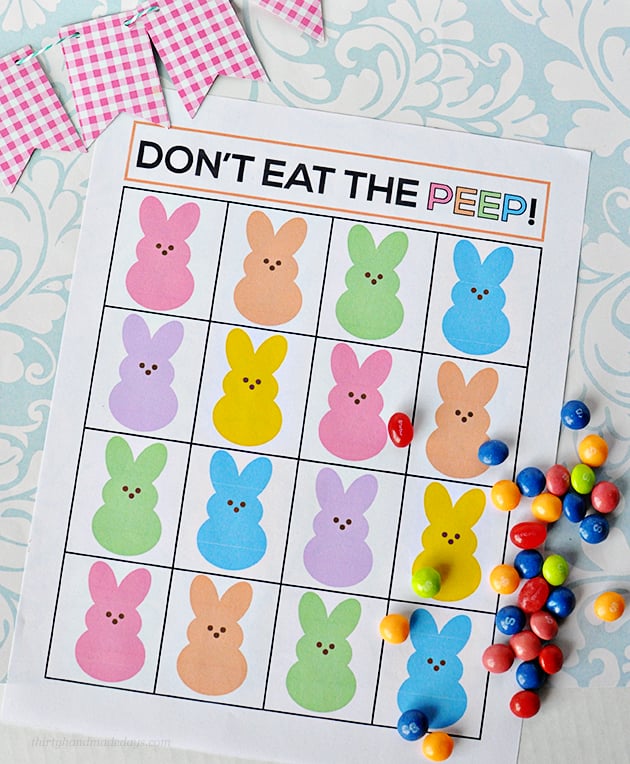 Your little ones will be in stitches throughout this fun game [4] and might not be able to resist eating the Peep.
Pokémon Peeps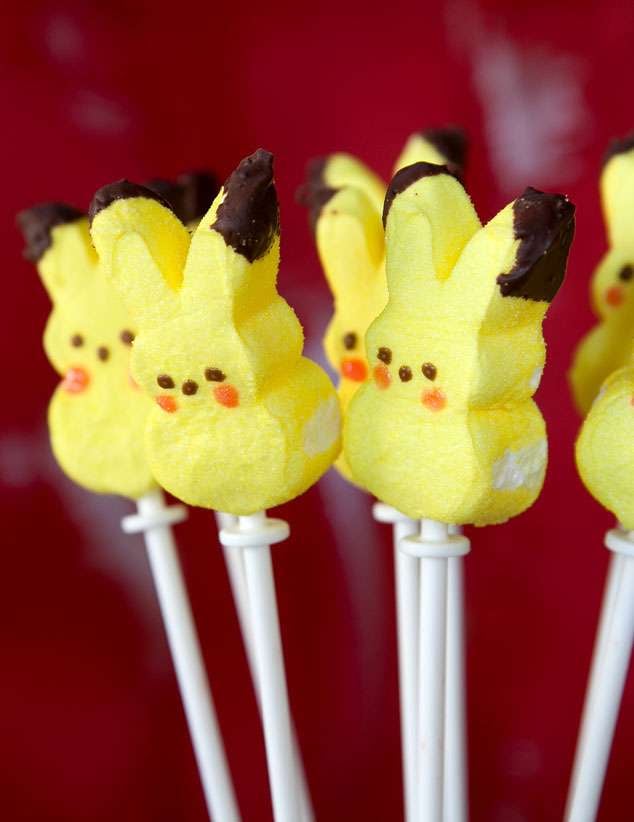 When you give Peeps a Pokémon makeover, you're in for the sweetest (literally!) Pikachu out there!
Peep Science Experiments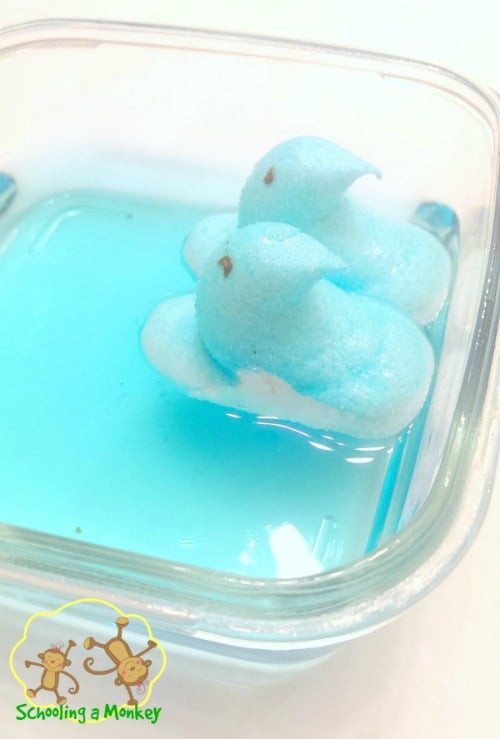 Who knew Peeps could be so educational?! Whether you decide to teach your little one the basic science of floating or the principles of color mixing, Peeps can come in handy during a variety of fun science experiments.
Peeps Centerpieces
Even if your children aren't a fan of the way Peeps taste, they can still enjoy them by making playful Peeps centerpieces [5].
Peeps Hot Chocolate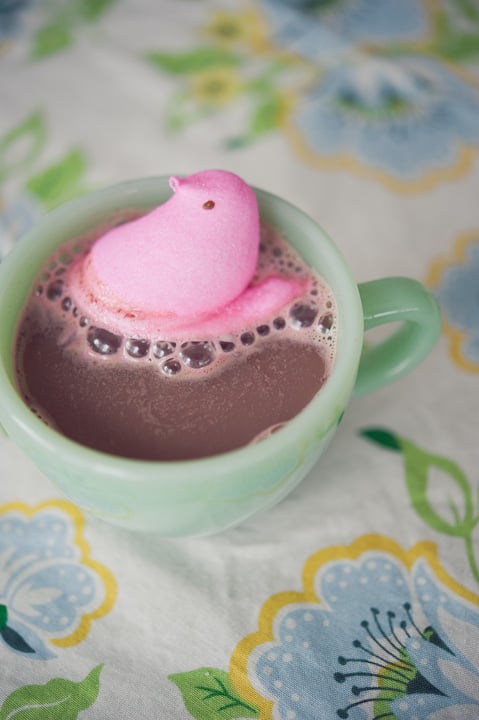 Give hot chocolate new life this Spring with Peep marshmallow garnishes.
Peeps Popcorn Balls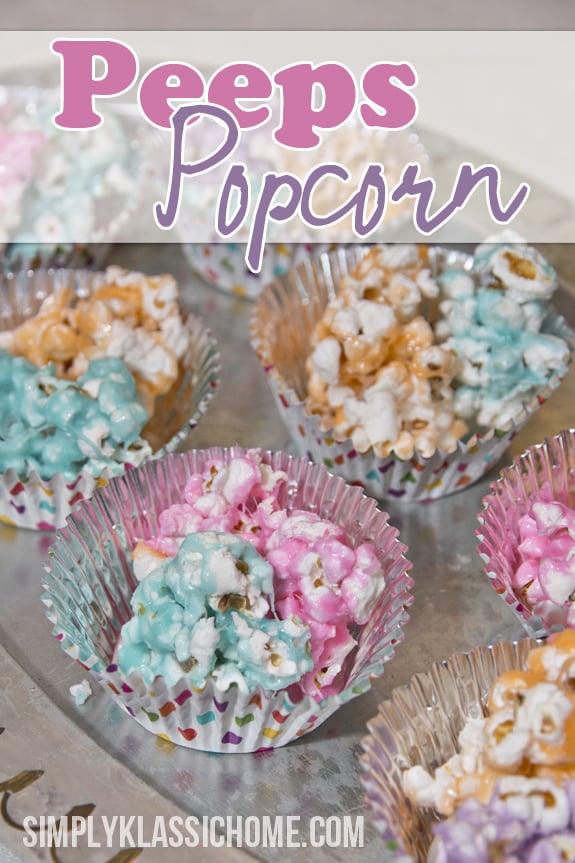 Indulge in this nontraditional flavor combination and watch your kids fall in love with their festive snack.
Peep Stamp Cards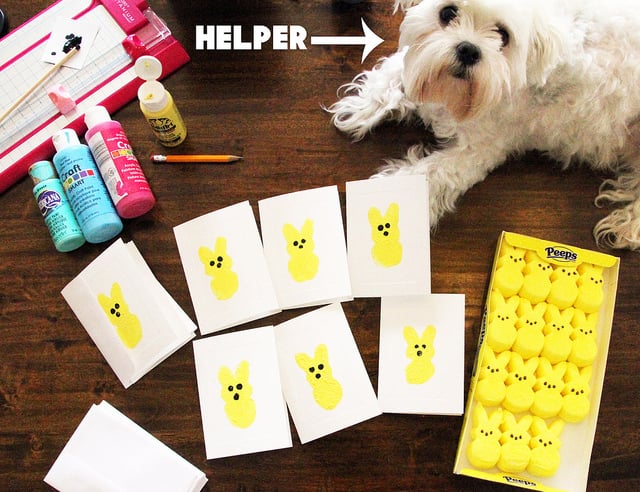 Kiddos will love using Peeps as stamps for these sweet DIY [6] Spring cards.
Swimming Peep Cups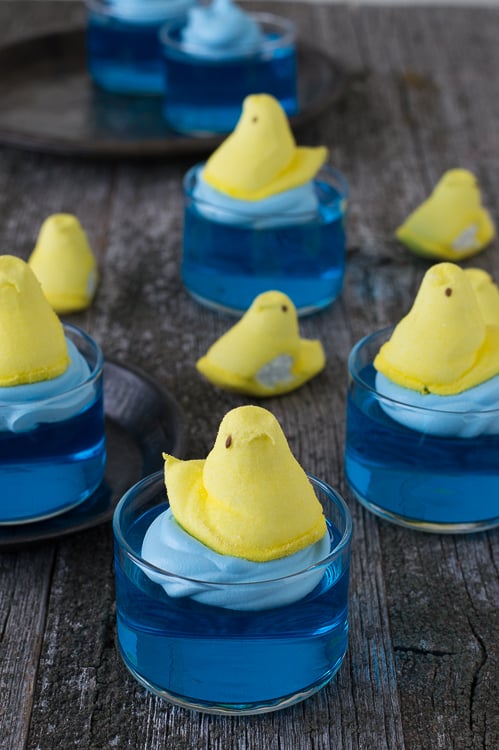 Warning: These swimming Peep jello cups might be the cutest thing your family sees this Easter.
Peeps Kabobs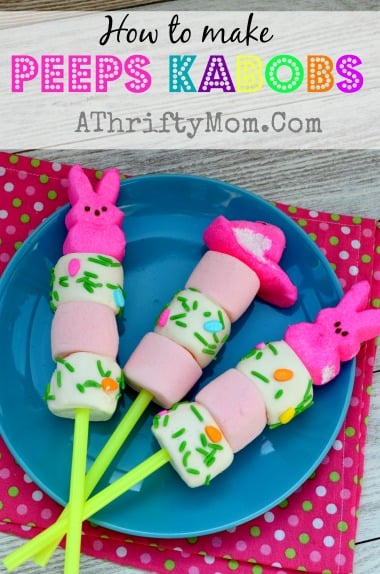 Not only is this a quick Easter treat, but it's also an easy project for little hands to help with.
Peeps Sunflower Cake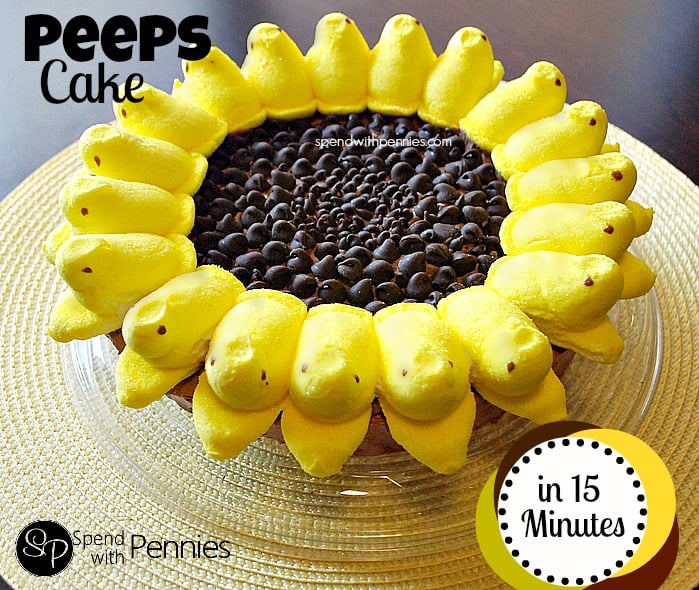 This Peeps Sunflower Cake [7] is a sure sign that Spring is on its way!
Layered Peeps Treats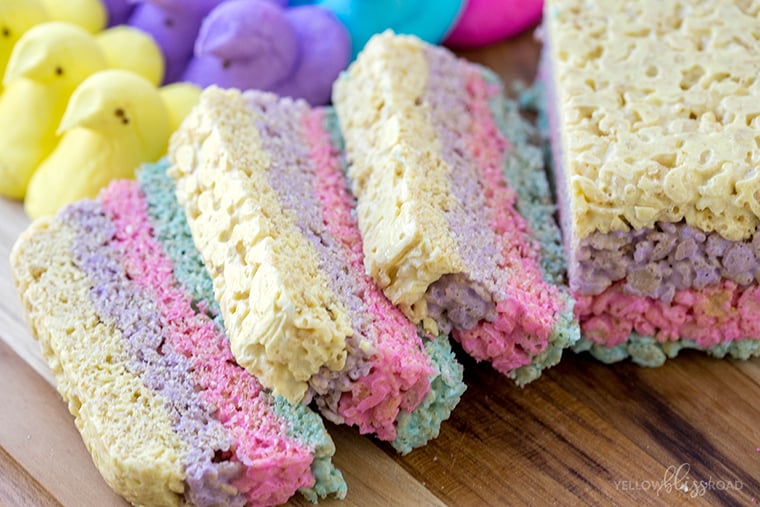 Not only do Peeps add great flavor to your favorite Rice Krispie treats recipe but their bright colors also make them even more fun!
Peeps Play Dough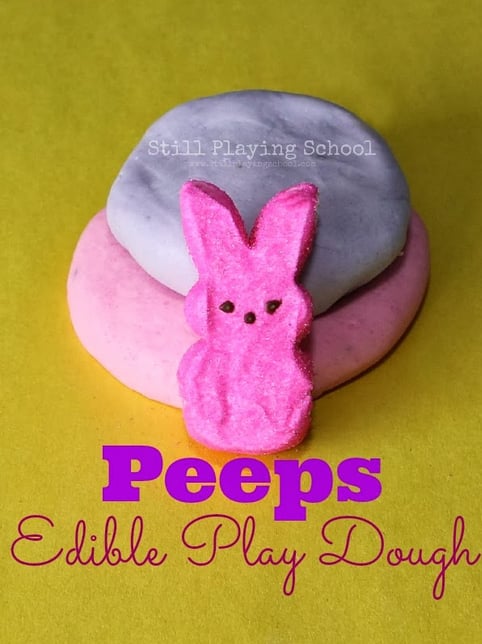 This may be one of the craziest things we've ever seen done with Peeps, but it seems to work. With a little oil and cornstarch, you can easily transform your Peeps into edible play dough [8], according to Still Playing School. Source: Still Playing School [9]
Rice Krispie Treat Peeps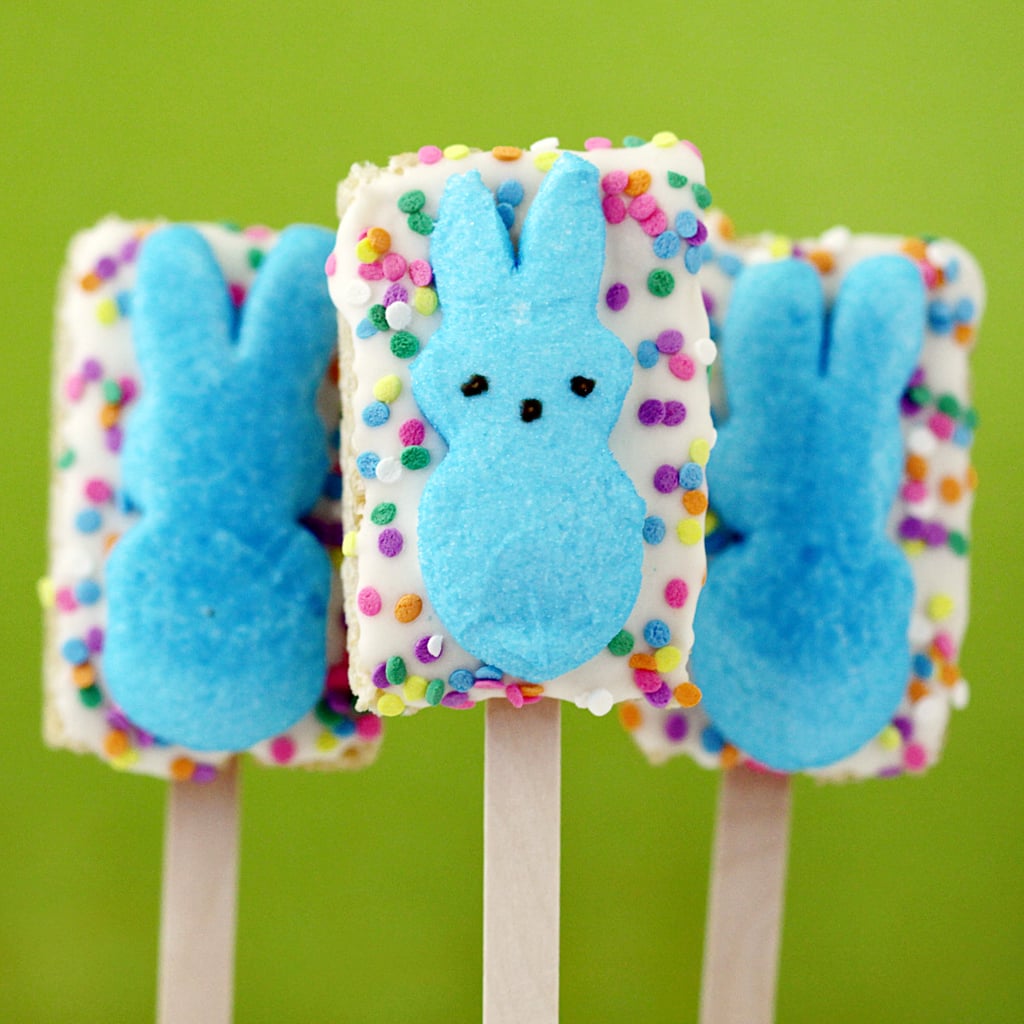 As if Rice Krispie treats weren't sweet enough to begin with, these Rice Krispie Treat Peeps [10] will keep 'em full of sugar! Source: Love From the Oven [11]
Hatching Peeps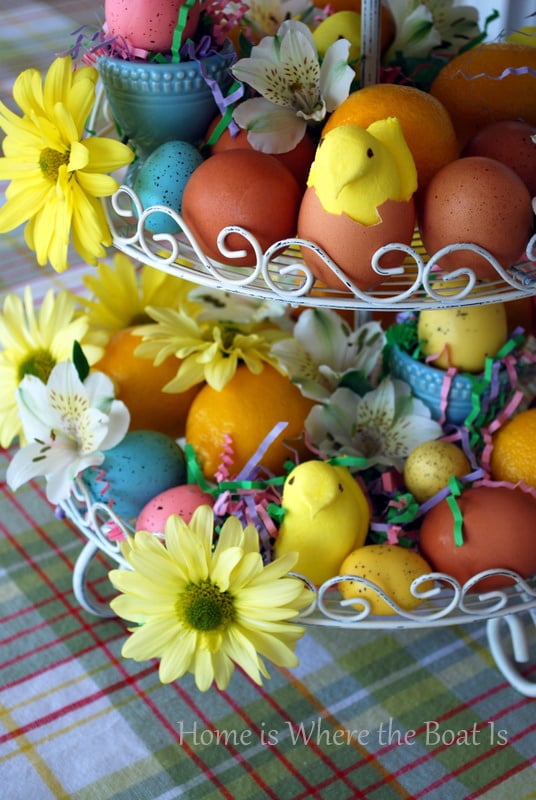 Does it get any sweeter than these hatching Peeps on a table? On Home Is Where the Boat Is [12], the marshmallow sweets appear to be coming right out of some hollowed-out eggs.
Source: Home Is Where the Boat Is [13]
Easter Peeps Garden Centerpiece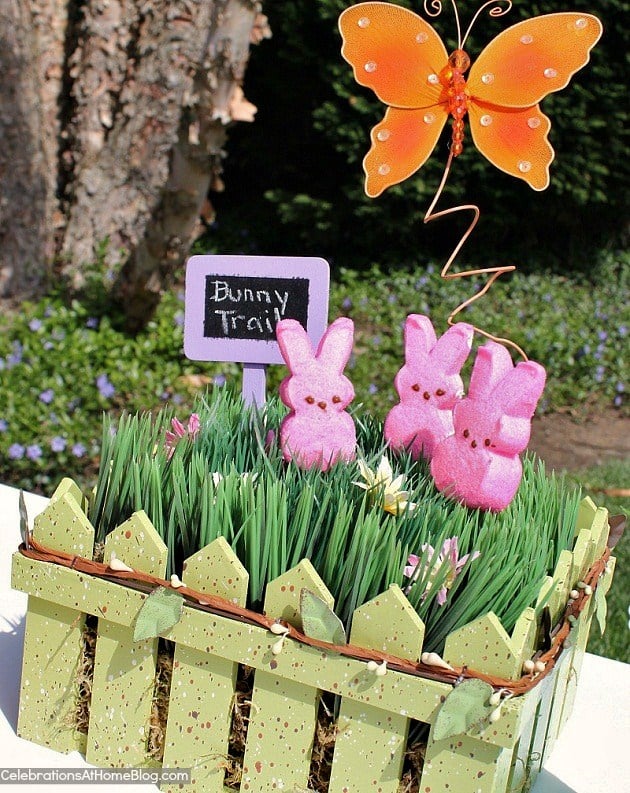 Why not put your Peeps front and center this Easter? Over on Celebrations at Home [14], the Peeps appear to be hopping along a bunny trail, making a cute centerpiece for the day.
Source: Celebrations at Home [15]
Peep Houses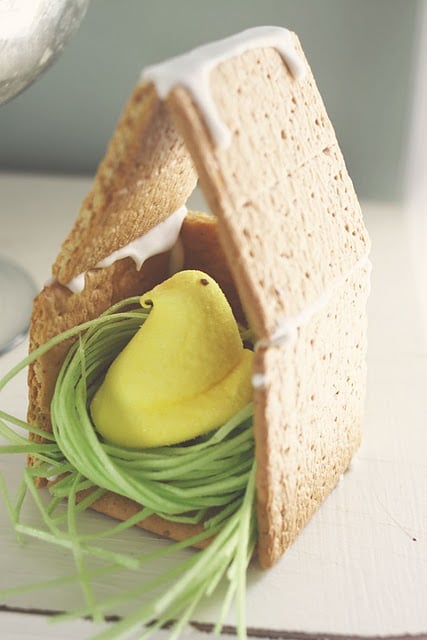 Every chick needs its roost, and Peeps are no different! These easy-to-construct Peep Houses [16] make a fun activity for little ones.
Source: One Girl Talks [17]
Peeps S'mores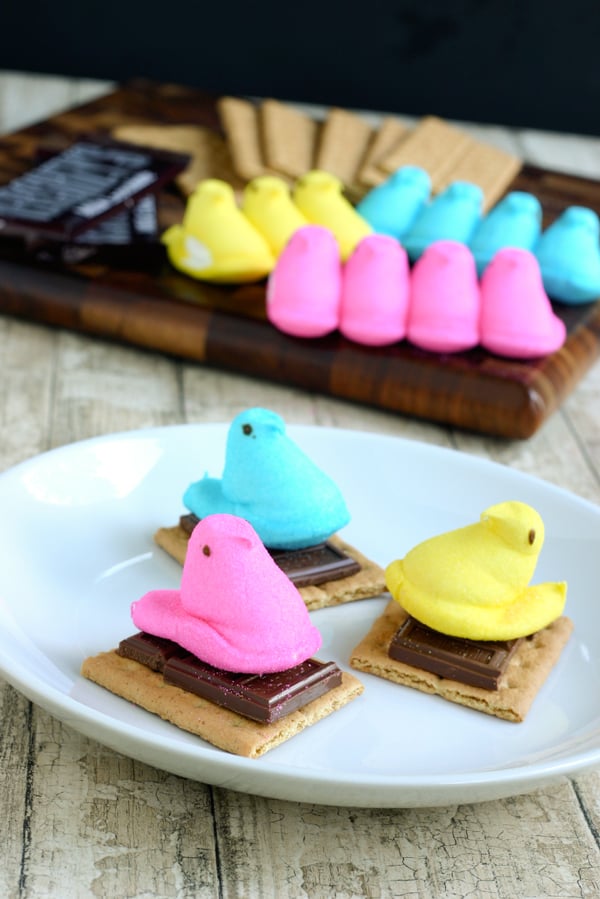 Little ones won't mind their favorite Peeps melting when they taste these yummy Peeps s'mores [18]!
Source: Eclectic Recipes [19]
Chocolate-Covered Peeps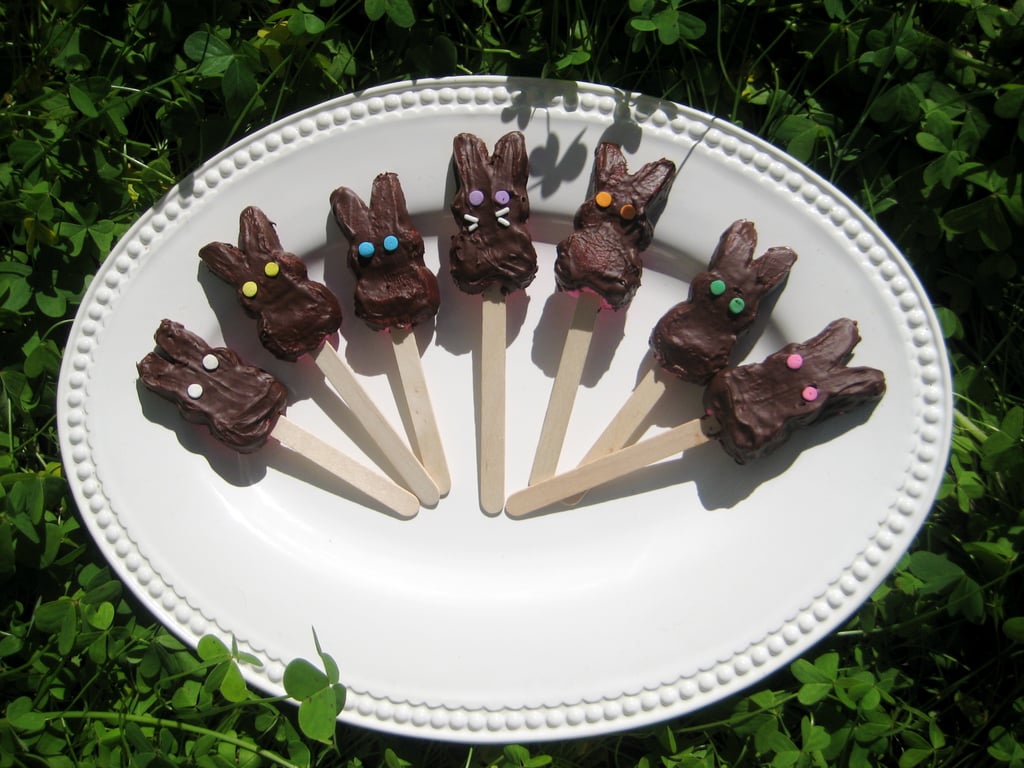 By heating chocolate chips in a double boiler, scooping the chocolate into a bowl, and helping her little ones spread it on Peeps impaled on Popsicle sticks, our own Peep baker [20] created a semihomemade treat that would be perfect for a family garden party, playdate, or preschool celebration.
Push Pop Peeps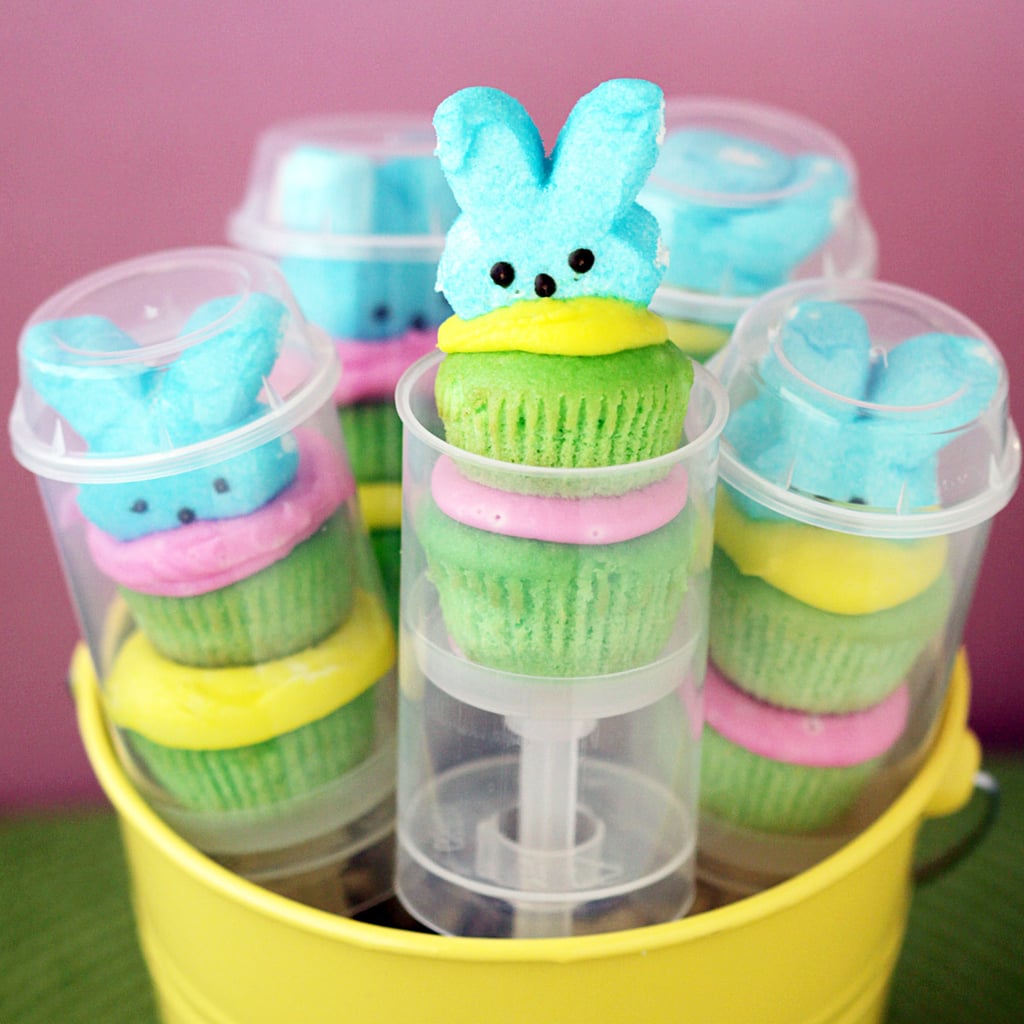 Peekaboo, these cupcake push pop peeps [21] want to see you! Adding minicupcakes, some icing, and Peeps heads to plastic push pop cases is all it takes for these fun Easter desserts.
Source: Love From the Oven [22]
Peeps Topiary
With a Styrofoam ball, a few packages of Peeps, and some toothpicks, tots can create their own Peep Topiary [23]. It's so cute that mama will have a tough time not eating the treats herself!
Source: The Hungry Mouse [24]
Peeps Sushi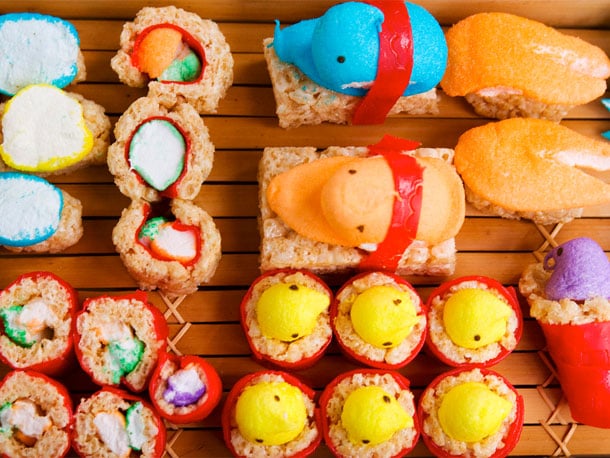 For a slightly more modern take on the use of Peeps, try whipping up some Peeps Sushi [25]. Add the marshmallow chicks to Rice Krispie Treats — secured with Fruit by the Foot — for some tasty fun!
Source: Serious Eats [26]
DIY Mason Jar Easter Basket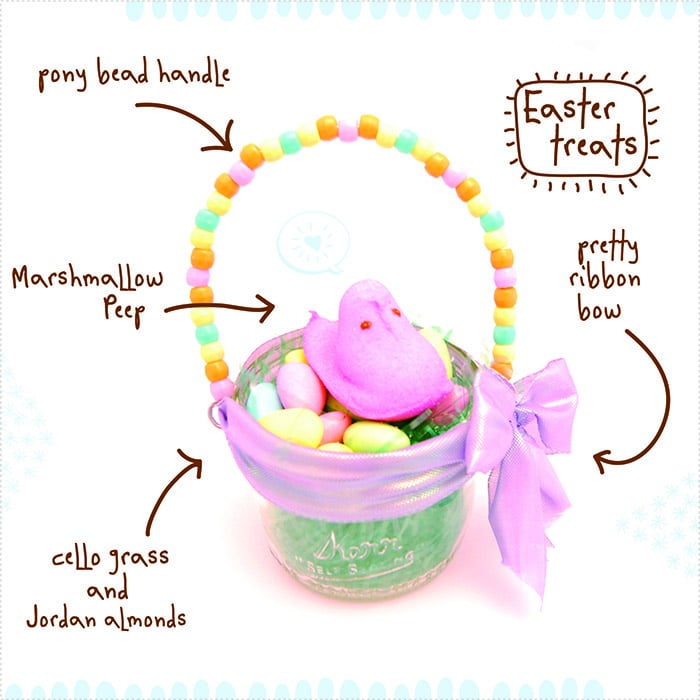 Mason jars are everywhere, and for a fun DIY [27], this Easter basket [28] is the perfect weekend project with kids.
Jousting Peeps
Keep the spirits high past Easter with a Peeps-jousting tournament [29]! This game is great, especially if you have leftover stale Peeps.
Peep Topiary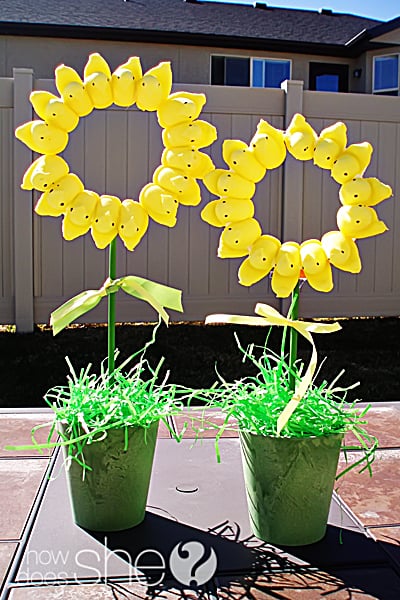 Just in time for Spring, this peep topiary tutorial [30] will make everyone's day a little brighter. It only takes minutes to put together and no green thumb needed!