Kid-Friendly Snacks For Airplane Travel
Stock Up: 5 Snacks to Pack For Holiday Shopping and Travel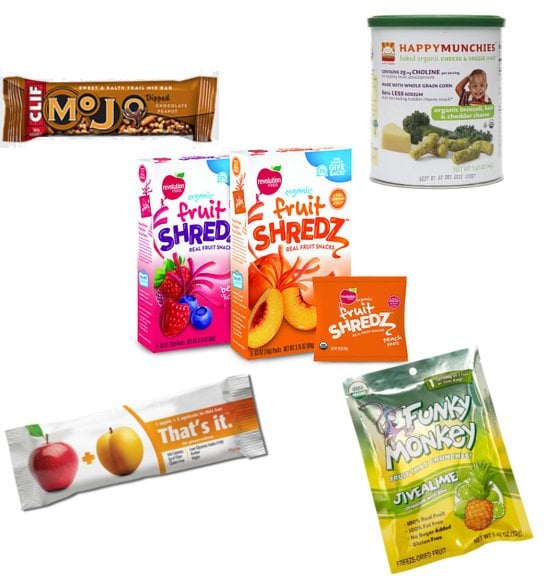 You don't have to be a Boy Scout to be prepared. Whether simply stocking a bag for a trip to the grocery store, or packing for a cross-country flight, moms know a thing or two about preparing for the unexpected. And while mama's regular stash of goodies can tame a fussy and hungry tot on a good day, when airport delays and holiday shopping crowds are on the agenda, it's a good time to step it up a notch. Check out five snack-time picks that do more than occupy lil ones during the holiday madness!
Clif Mojo Dipped Bars ($15 for 12): Chocolate-covered peanuts? Yes, please! Available in a variety of flavor combinations, Clif's Mojo line of bars combine the sweet and salty by mixing fruits, nuts, and pretzels and then dipping them in sweet vanilla or chocolate. The kids will never know it isn't a candy bar!
Happy Baby Happy Munchies ($3): Happy Baby's allergy-free sticks are perfectly sized for toddler hands. Made with whole grain corn and packed with choline (to help with brain development), the snacks keep sodium to a minimum so your tot won't be begging for drinks as you try to pass through the airport security line!
Funky Monkey Snacks ($12 for 12): All-natural, freeze-dried fruit may sound boring, but with Funky Monkey's fun flavors (like Jivealime, a pineapple and lime combo), kids will love testing them out. Best of all, their satisfying crunch will have lil ones thinking they're eating chips!
That's It bars ($20 for 12): Made from just fruit, these bars are perfect pick-me-ups during a long day. They're nut-free, GMO-free, and just plain good!
Revolution Foods Fruit Shredz ($4): Think of these as the modern-day interpretation of the Fun Fruit. Made without high fructose corn syrup and glycerin, they're healthy, tasty, and unbelievably kid-friendly!