Kid-Friendly Vegan Cheesecake Pops Recipe
Gluten-Free, Vegan Cheesecake Pops: A Kid-Friendly Raw Alternative!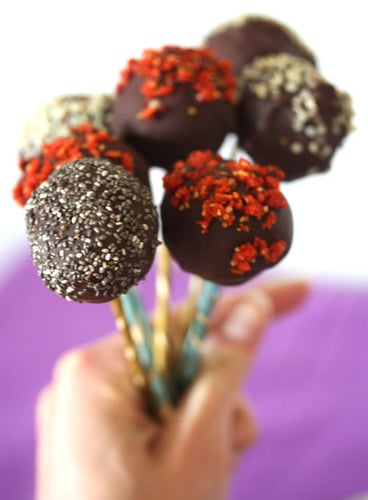 Get your cake on! Just when we thought the cake pop craze couldn't get any bigger, it did. We've seen so many gorgeous cake pop designs that we know it's hard for kiddos — and mama too! — to resist the temptation. That's why we're sharing with you an exclusive gluten-free, vegan rhubarb cheesecake pop recipe from The Dessert Revolution ebook.
So what is the difference between a regular rhubarb cheesecake pop and a vegan cheesecake pop? Well, everything! Sugar, flour, butter, and cream cheese are the main ingredients for a standard cheesecake — and they're all substituted with raw alternatives like agave nectar and virgin coconut oil. Not to worry though, they're equally delicious, and your kids will never know the difference!
Keep reading for the fun and tasty recipe!
Source: Love Raw
Gluten Free, Vegan Chocolate Coated Rhubarb Cheesecake Pops
Ingredients
Rhubarb Filling:
• 180 g or 1.5 cup cashew nuts
• 1-2 pinches of Himalayan salt
• 230 g or 2 cups frozen cubes of rhubarb (don't use fresh rhubarb in this recipe)
• 100 g or 0.5 cup virgin coconut oil (the virgin oil is more nutritious and tastes like a dream)
• 1 cup of water
• 4 teaspoons agave nectar
• 1-2 pills or 1/4-1/2 teaspoon Spirulina for green color.
Melted chocolate:
• 100 g chopped cacao butter (3.5 oz)
• 0.5 cups + 1 tablespoon raw cacao powder
• 5 tablespoons agave nectar (or the sweetener of your choice)
• A little pinch of pink Himalayan salt
Directions
Rhubarb Cheesecake Filling:

1. If your rhubarb is fresh: cut them in cubes and freeze for at least one hour. Important: thaw before adding it to the food processor, otherwise you'll get a lumpy filling.

2. Grind the cashews using a coffee grinder, or food processor, then add the rest of the ingredients, except the coconut oil. Mix until perfectly smooth. Add the coconut oil and mix for maximum 30 seconds.

3. Put the rhubarb batch in a container in the freezer for 15-20 min. This will make the batch firmer and easier to handle. While you wait for the batch to cool in the freezer, make the melted chocolate.

Melted chocolate recipe:

There are many different raw chocolate recipes. This recipe has lots of cacao powder and is quite sweet. It reminds me of the chocolate coating on a magnum ice cream. You can use mesquite or maca to add an extra taste dimension.

1. Make a water bath by boiling some water, put it aside and place a bowl on top, letting the hot steam heathen the bowl.

2. Place the shopped cacao butter in the bowl and let it melt slowly.

3. When all of the cacao butter pieces have melted, add the cacao powder, agave and salt. Stir by hand to incorporate. You will get a runny chocolate at first, but it will slowly thicken as it cools down.

Cake Pop Time!

1. Now take out the rhubarb batch from the freezer to form balls. Use a spoon and scoop up the batch and in your hands roll balls in the size of a small plum. Don't make it too big, as it will be harder to handle once you insert the lollipop stick.

2. Put all of the rhubarb balls on a plate and start inserting the lollipop sticks a little less than halfway.

3. Put the pops in the freezer again, for 5-10 minutes to let them firm up before you coat them with chocolate. The cold pops will be easier to handle and make the hardening of the melted chocolate happen faster. If you can't fit your pops having the pop-sticks facing up, you can carefully lay them down. You can re-shape them again before you put the chocolate on.

4. Now it's time to coat the pops! Make sure that you have a thick chocolate resembling the consistency of cold agave nectar. Don't dip them. Hold them still and with a spoon; scoop the chocolate over the pop. You might find the pop rather loose, but don't panic. The chocolate will fortify the pop once it hardens. Let the chocolate cover a piece of the stick as well, this will further stabilize the pop.

5. Before the chocolate is hard, take a pinch of your coating of choice — it can be chia, hemp seeds, shredded coconut, shopped nuts, cacao nibs or goji crumbles — and sprinkle it on.

6. When the chocolate hardens, the actual pop is rather sturdy. Set them to harden before eating.
Information
Category

Desserts, Cheesecake