Kiddie Wellness: Cradle Cap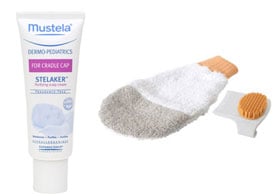 Cradle cap isn't just for infants. The crusting on a babe's head that is caused by buildup of skin oils and cells can also be found on older children. And, while you wash and comb your wee one's hair repeatedly, it may do lil to remove the flakes.
Long hair not only disguises the harmless condition, but makes it it harder to remove. If you are looking to rid your youngster's scalp of the scales, try massaging it with a natural oil or cream prior to washing her hair or building up a soapy lather with a soft mit or toothbrush and shampoo. If your tot has long tresses, a nitpicking comb might also do the trick.