Kids and Band Aids
Why Didn't Anybody Tell Me: Band-Aids Are a Sure Sign of Summer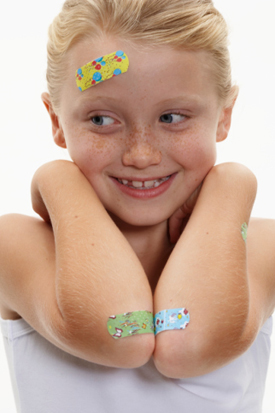 Summer's only a week old, and I've already been through one box of Band-Aids for my kids. While you may think my tots simply love putting the Toy Story bandages on to show off their love of Buzz Lightyear or illicit sympathy for nonexistent boo-boos, they, unfortunately, have all been used for legitimate reasons.
Somehow, as soon as the thermometer passes the 70 degree mark and shorts are pulled out of the closet, my kids find a way to fall, slide, or scrape against every possible surface in sight. I've already found myself picking blacktop out of one banged-up knee, precisely working a splinter out of a tiny finger, and cleaning out an elbow wound that occurred when one tot unnecessarily slid into home base. With three months left of Summer, I'm thinking it may be worth investing in a warehouse club-size box of bandages – it will certainly save me from running to the drugstore every week!
What's you're unexpected sign that Summer's upon us?