Kidz Bop 20 Review
Kidz Bop 20: The Best Version Yet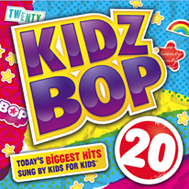 Kidz Bop celebrates its 10th birthday, and we are jamming too with Kidz Bop 20. I have to admit, this might be the best Kidz Bop yet, featuring songs from Lady Gaga, Jennifer Lopez, Pink, Taylor Swift, and Justin Bieber. The songs are encouraging, the musicians and singers sound awesome, and best of all, it's free of cuss words and inappropriate lyrics. That's something to praise!
The entire CD offers many catchy beats, so it's difficult to pick favorites. The first track starts strong with "Born this Way," and this censored version maintains the uplifting message while changing the lyrics to become more kid-friendly. I actually prefer Cee Lo Green's "Forget You" version to the original. Kidz Bop Kids pull it off. Their version is sassy, upbeat, and jukebox worthy. I put "The Lazy Song," "On the Floor," and "Tonight Tonight" on repeat, because the songs sound comparable to the originals.
If you are a parent who is looking for a kid-appropriate CD that you will also enjoy, definitely pick up a copy of Kidz Bop 20. It's so surprisingly good that you'll be singing right along with your kids.