Kim Clijsters Post Pregnancy Win
Can Motherhood Make Us Better Athletes?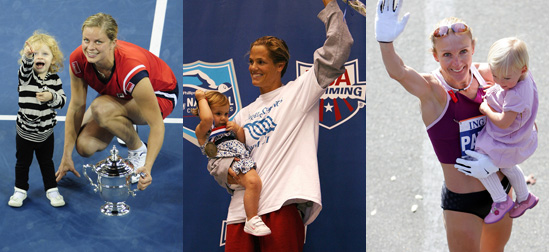 Forget Couch to 5K, maybe it should be Delivery Room to Marathon. While many postpartum mamas complain of the toll their pregnancies took on their bodies, doctors claim that the experience may make them more powerful than they were before conceiving a child. Researchers from Michigan State University and John Moores University in Liverpool have found that increases in blood volume and hormones that occur during pregnancy can improve the body's muscle strength, allowing women to excel at athletic activities.
The recent successes of mother-athletes like tennis ace Kim Clijsters, swimmer Dara Torres, distance runner Paula Radcliffe and golfer Catriona Matthew have the researchers looking at the psychological side of birth and athletics. Professor Greg Whyte, from John Moores University, speculates that the birthing process increases women's pain threshold, making female athletes even stronger than before:
"Women re-evaluate where they can anchor pain and many psychologists believe that woman's pain threshold is effectively reset so that when she resumes or takes up training again, nothing ever seems as uncomfortable."
Did you find yourself stronger after giving birth?