Kim Clijsters Wins For Mothers
Kim Clijsters Wins One For Working Mothers Everywhere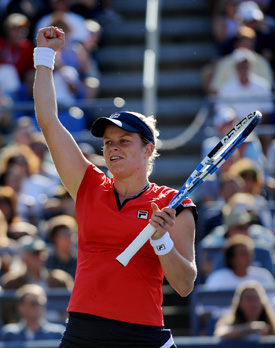 Serve one up for all of the mothers out there. The decision to return to work after the birth of a baby can be hard. For professional athletes, the preparation requires more than just emotional strength but physical preparation.
Once ranked the number-one tennis player in the world, Kim Clijsters retired from the sport in May 2007 with the intent to marry her boyfriend and start a family. In February 2008, she gave birth to daughter Jada Ellie before announcing her intention to return to the tennis the following year.
This afternoon, Clijsters topped Li Na to move on to the U.S. Open's semi-final round for the first time since 2005. After Clijsters's recent win over third-ranked Venus Williams, CBS Sports' Mary Jo Fernandez asked the mother, 26, about returning to work with a child in tow.
Check out what the athletic mama had to say:
On how hard it was to return. I've been working really hard the last 7-8 months, and I'm enjoying it. I think that's really something important for myself as well, as long as I can focus on tennis, but on the outside have fun as well. Tennis is a great sport, but I'm just happy that we can have a family and I can balance both.
On how she balances work and family. We have help, so that's great, but it's fun. . . . To your daughter, it doesn't matter if you win or lose, she's just happy to see me and that's great.
On how she prepared to re-enter the game: I have to admit that I only just started watching tennis at the start of this year, because I didn't really have that much time. With the baby running around, I was just happy to sleep when she was sleeping as well.