Kissing Your Kids on the Lips
Mommy Dearest: Grandparents Kiss Kids on the Lips!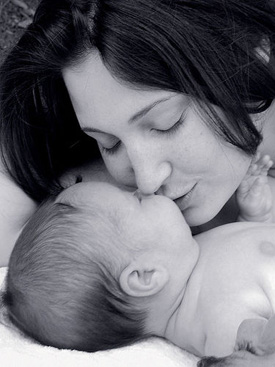 Mommy Dearest –
My husband grew up in a very affectionate family where hugs and kisses were never spared on the children. When my kids were babies and toddlers, I thought nothing of my in-laws giving their grandchildren kisses – be it on the cheek, forehead or lips. But now that the kids are 5 and 8, I'm beginning to get a bit uncomfortable with the lip pecks. Though I have yet to discuss it with them, I don't think they love it either since they are always wiping them off and making fun of their grandfather for doing it. Is it appropriate for me to put an end to this practice? And if so, can it be done without offending the grandparents?
– Kiss and Tell Mommy
To see Mommy Dearest's response,
.
Dear Kiss and Tell Mommy –
How wonderful for your husband and children to grow up in such an affectionate family. That isn't always the case! Seventy-one percent of LilSugar readers see nothing wrong with planting a kiss on their kids' lips, but if it makes you and your tots uncomfortable, that's another story. I would first ask your tykes how they feel about it. If they would prefer not to be kissed on the lips, I'd sit down with your in-laws and explain that the kids are growing up and are embarrassed by the actions. In all likelihood, the grandparents won't want to risk upsetting anyone and the practice will stop!
– Mommy Dearest
Have a question you need answered? Submit it to the Mommy Dearest Group in our Lil Community.
Source: Flickr User christyscherrer