Get your budding chefs out of your kitchen and into their own! Check out 10 of our favorite foodie-friendly toys for your little one to enjoy in the safety of his or her own playroom. There's endless fun to be had when it comes to playing with your food, from modern tea sets to miniature grocery carts!
Fred & Friends Chimpsticks Chopsticks ($7)
The cutest way to learn to use chopsticks [1], Fred & Friends' Chimpsticks are as much fun at playtime as they are at real mealtime.
Plan Toys Tea Set ($28)
For a tea set that's anything but dainty [2], check out this eco-friendly version from Plan Toys — it's made in Thailand out of sustainably harvested rubberwood.
Anthropologie Sewing Basket Apron ($24)
Your little baker will look the part in this Anthropologie apron [3] — it's just her size!
Glueckskaefer Wooden Play Kitchen ($423)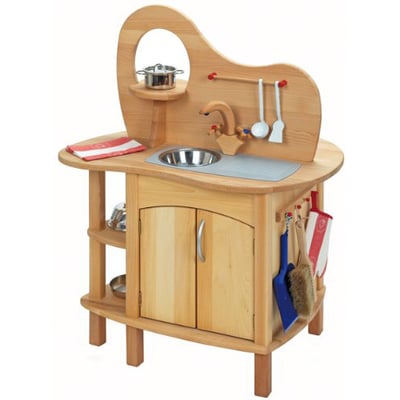 Glueckskaefer's heirloom quality play kitchen [4] may be an investment, but it's a worthwhile one that you'll be able to pass down for generations. Tons of tiny details make this beautiful wooden piece special, and it accommodates most kiddie-sized play cookware.
Cocorico Cooker ($27)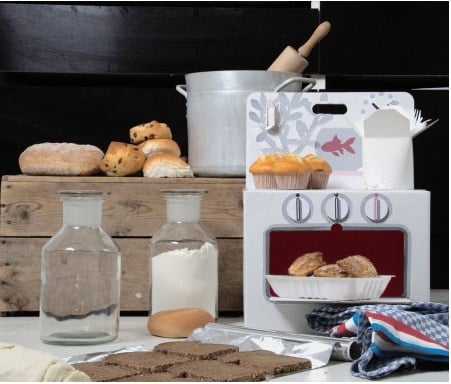 For homes that are small on space, the Cocorico Cardboard Cooker [5] is a great alternative to bulkier (and pricier!) toy kitchens. Made entirely of recycled cardboard, the toy oven arrives flat in a rectangular box, is easy to assemble, and is light to move around.
As Cozy as Home Play Kitchen ($380)
This deluxe wooden kitchen set [6] comes complete with accessory pieces including dishes, silverware, pots, pans, appliances, and toy food. Your little Barefoot Contessa even has a window with pink gingham curtains!
Melissa & Doug Shopping Cart ($55)
Savvy little shoppers will love Melissa & Doug's realistic, durable metal shopping cart [7] — it's just their size!
Moulin Roty Cardboard Groceries ($20)
Mini gourmands can set up shop with Moulin Roty's chicly packaged French groceries [8].
Pottery Barn Kids Pink Retro Kitchen Collection ($249–$699)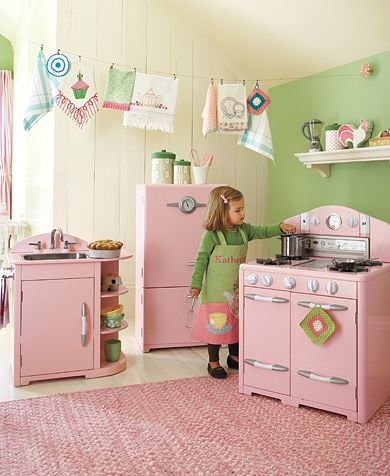 A little kitchen set with big-time retro flair, Pottery Barn Kids' heavy-duty Sink, Oven, and Icebox [9] will give your little girl years of play kitchen fun.
Melissa & Doug Stir-Fry Slicing Set ($20)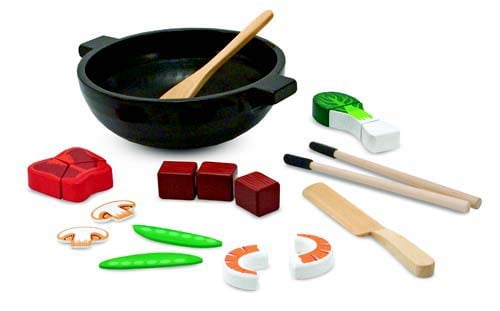 What's in the wok? Melissa & Doug's adorable wooden stir-fry set [10] comes complete with all of the fixings necessary for a delicious (faux) supper.