Klutz's The Hand Book and Moveable Skeleton
The Klutz Bone Book: The Ultimate Halloween Handout!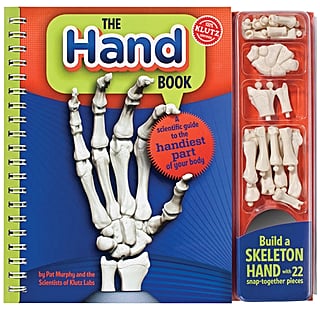 No bones about it! Parents are hard-pressed to find an activity that holds the entire family's attention and encourages team work, but Klutz's The Hand Book ($20) had my kids mesmerized for a couple of hours. Packaged as a build-able hand skeleton and accompanying text, it's the ultimate Halloween handout if you're looking to offer a child some brain candy!
Who is this toy designed for? The product says it is for ages 8 and up, but my kids — ages 3 and 6 — were able to build the hand model themselves. Even my 1-year-old was interested in watching the process (though we kept a close eye on him since the small pieces are choke hazards).
What sets it apart? I'm a fan of Klutz books because the directions are straightforward and allow children a lot of independence in completing the tasks. My daughter guided her brother through the process of matching the numbers on the hand bones and snapping them together. A bit of mom's elbow grease was needed to secure the digits into the base.
How long did it entertain my children? It took the kids about 45 minutes to construct the hand, and then we read through the book together for another hour. It's a fun and educational tome of facts. Did you know that the human body has 206 bones and more than half of those are found in a person's hands and feet? These types of tidbits sparked conversation between the children. And I learned a few things too! My daughter and son had a blast moving the skeleton into different hand shapes from a hang 10 signal to a peace sign. The model continues to make its way around the house during games of tag and into the car when someone picks it up to occupy themselves. The skeleton also doubles as fitting Halloween decor!
Would I buy it? I've rarely come across such an affordable, educational toy that delights children to such a degree. Aside from being an optimum birthday present, it's a practical gift to donate to a school classroom since it offers students a hands-on opportunity to learn about science and the human body.