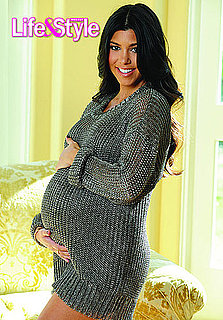 Kourtney Kardashian isn't due until December, but she's already planning how she will get her body back and lose the 30 pounds she's gained during pregnancy. Life & Style reports the tiny reality star is already a fan of the Belly Bandit, a beloved "abdominal compression binder" designed to shrink the stomach after delivery. In fact, Kourtney, who has kept up her exercise regime throughout her pregnancy, is even lending her name to a forthcoming limited edition Belly Bandit.
She told the magazine:
All my friends with kids swear by it and say it's the product that will get me back to pre-baby shape...It may be hard to do abdominal exercises right after I have the baby, so I'm depending on Belly Bandit to help give me the abdominal and back sup­port I need so I'm ready to exercise as soon as my doctor gives me the okay.
Many pregnant women think that once they give birth, their tummy will snap back into place, so I appreciate Kourtney understands she might need a secret shaper for a while. BabySugar wore her Belly Bandit religiously for the suggested six-week minimum after she gave birth (and looked fabulous!) and can't stop raving about it. Did the Belly Bandit make your postpartum supplies list?