Krazy Ketchup Hides the Veggies
Does Vegetable-Infused Ketchup Take Hiding Foods Too Far?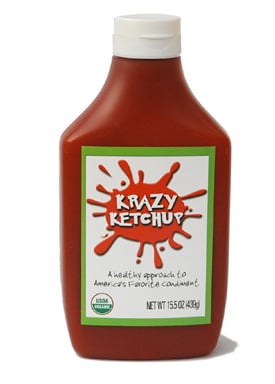 Ketchup is quite possibly the most tot-friendly condiment. Whether your lil darling drizzles it on his entrees or uses it as a dipping sauce, kids love the tomato paste. Like most childhood favorites, including chicken fingers, mac and cheese, and buttered pasta, the bottled goodness has undergone a makeover.
Krazy Ketchup ($7) is the Jessica Seinfeld-inspired version, made with organic tomato, butternut squash, carrot, and sweet potato purees. Created by two moms whose toddlers had begun to fight off vegetables, the concoction was designed to add some additional nutrients to their diets without inciting a riot at the dinner table.
Would you serve this to your children?