Lands' End Launches Science-Themed Tees For Girls
Mom's Letter Leads to New Line of Science Tees For Girls From Lands' End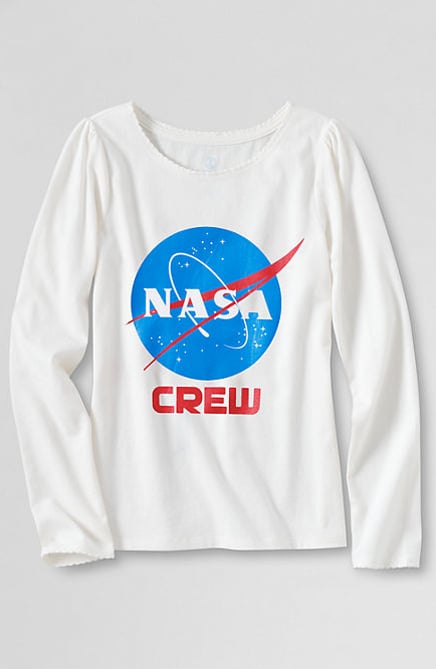 0
Mom's Letter Leads to New Line of Science Tees For Girls From Lands' End
Lisa Ryder's daughter loves all things science — from the ocean to outer space. So the New Jersey mom was disappointed to see that the popular children's clothing company Lands' End only offered science-themed t-shirts for boys — not girls. Ryder took to the company's Facebook page to express her frustration. She wrote:
"Dear Lands' End,
My nine year old daughter loves science; She especially enjoys learning about ocean life and outer space. She has read more books on sharks than I ever knew existed, follows NASA news, and hopes to be an astronaut one day.

So you can imagine her reaction when she saw your company's science-themed t-shirt designs for boys featured on page 26 of your latest catalog. The boys' options include realistic images of planets and our solar system, labeled diagrams of sharks and dinosaurs, and a "NASA Crew" tee design that she immediately declared to be "the coolest shirt ever."
We immediately flipped forward in your catalog to find the equivalent shirts in girls' sizes. But when we got to the available t-shirt designs for girls on page 56, instead of science-themed art, we were treated to sparkly tees with rhinestones, non-realistic looking stars, and a design featuring a dog dressed like a princess and wearing a tutu.

My daughter was very confused. Lots of her friends that are girls love science, too. Why were there no cool science shirts for girls?

So, Lands' End corporate, how should I respond to my daughter's question? In 2014, why are you selling "mighty" tees for boys and "adorable" tees for girls? (Descriptions taken straight from your marketing copy.)

My daughter is mighty and she loves science. And until you recognize that it's not only boys that can fit that description, I'm afraid our family will no longer be shopping in your stores.

Sincerely,
Lisa Ryder"
Well Lands' End listened and now Ryder's daughter, as well as other little girls, will be able to wear their science pride on their sleeves — literally. The company announced yesterday that it would release several science t-shirts this month and, "will continue to add new styles moving forward." The shirts are available for preorder on the Lands' End website and will ship beginning in August, just in time for back-to-school wear. Scroll through to see the out-of-this-world collection.