Language Apps For Kids
5 Fun Reading Apps For Kids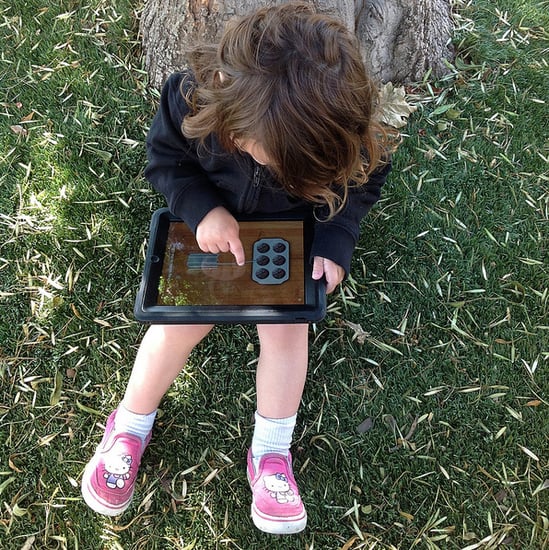 There's so much more to learning language than just knowing how to speak — kids must learn to recognize letter sounds, ask questions, and build sentences and stories, and more. To help make all that learning a little more fun, here are five great language-focused apps that children love playing.
1. SuperDuper® StoryMaker (iTunes, ages 4+)
The SuperDuper® StoryMaker app ($5) allows your child to create stories by using an image library of over 800 cartoonish images that depict all the elements of a good story — characters, setting, plot, and other details. Your child can also draw their own pictures, import photos, type in text, and record their own voice reading the story. If you want to try out the app before buying, there's also a limited-features free edition available.
2. Story Dice (Android and iTunes, ages 7+)
This app, available for both Android and on iTunes ($2), has a simplistic interface that provides for a number of different language-learning opportunities. The app is made up of five die, with each side displaying a pictogram that can represent a character, plot, setting, or other element of a story. Once the die are rolled (your child can choose how many die to roll at a time), it's up to your child to figure out what they want to do with the images — tell a story about the pictographs, play charades with you, make up a song, or even create a cave drawing to go with what they see.
Keep reading for more language apps!
3. PLAY-DOH Creates ABCs App (iTunes, ages 3+)
The PLAY-DOH Creates ABCs app ($3) is a neat way for your child to practice writing letters and connecting letters with their sounds. Your child squishes together Play-Doh blobs to make letters, match letters to objects that start with the same sound (and then watch those objects animate!), or simply play with the Play-Doh and make his own creation.
4. WH Question Cards (Android and iTunes, ages 5+)
There are a number of different versions of this app from SuperDuper, all of which help your child learn how to phrase and answer "who, what, why, where, and when" questions. All of the versions have a number of different modes, including a Memory Match game, a Drag 'n' Match, and a multiple-choice option.
The multiple-choice option can be changed to either ask the question or give the answer — either way it shows your child a detailed picture scene and provides your child a number of answers to choose from. The cool thing is that the wrong answers are phrased the same way a kid would answer a question incorrectly. (For example: Q: Why do you go to school? A: In the morning.)
For Android devices, you can purchase the WH Questions At Home Fun Deck or WH Questions At School ($2). On iTunes, you can try the WH "Who" Questions for free or purchase the WH Question Cards Pro ($12), the most inclusive version of the app.
5. ABA What Rhymes? ( iTunes, ages 5+)
The What Rhymes? app ($2) is one of a series of language apps available on iTunes by Kindergarten.com. This particular app is so much fun that your child won't even notice that there's an educational benefit to it, too. The interface is simple: your child is provided with a grid of four real-life photographs, and one of the images is described aloud. It's then your child's mission to find the image that rhymes with the spoken word. As your child gets more skilled at the game, you can go into the settings to change the target words to be more challenging. It's fun to not only see if your child can find rhymes, but also see how silly they think some of the other choices are!