Le Roy's High School Mystery Remains Unsolved (VIDEO)
Le Roy's High School Mystery Remains Unsolved (VIDEO)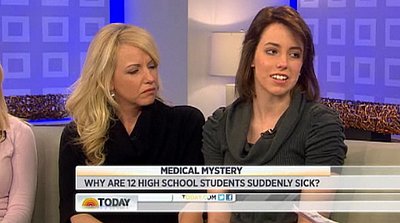 If your child came home from school one day with a strange illness — and eleven of her classmates had the same symptoms — would you expect the school to provide an explanation?
That's what's going on in upstate New York right now. A dozen teenage girls at LeRoy Junior-Senior High School are suddenly exhibiting the symptoms of Tourette's syndrome.
It all started in October last year when cheerleader and art student Thera Sanchez took a quick nap. When she woke up, she was plagued by uncontrollable body movements, tics and verbal outbursts. The mystery deepened when eleven other students at the same school, all girls, developed similar symptoms.
Visit msnbc.com for breaking news, world news, and news about the economy
Visit msnbc.com for breaking news, world news, and news about the economy
Visit msnbc.com for breaking news, world news, and news about the economy