LeapFrog LeapReader Reading System Review
Does the New LeapFrog LeapReader Really Improve Upon the Old Tag?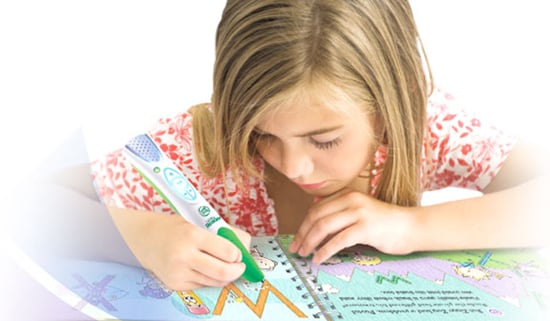 Reading, writing, 'rithmatic? LeapFrog now has you covered. It's been four years since LeapFrog introduced the Tag Reading System to preschoolers everywhere. The system, which brought written words to life as the stylus contacted pages in the specially developed books, inspired tots to learn how to read on their own. But with time, the company found that parents are just as interested in teaching their kids to write as they are to read.
That brings us to today, where LeapFrog is taking things a step further with the new LeapReader ($50), a device designed to teach kids how to read and write all in one place. As a next-generation Tag — LeapFrog began phasing out the Tag system this Summer — the LeapReader continues to teach tots to sound out words and read sentences through its library of 150 or so books, and it also teaches preschoolers how to write their numbers and letters through structured stroke lessons. Could one device really do it all? LeapFrog sent us a stylus to try out; see what we thought below.
Who is this product designed for? Like the original Tag, the LeapReader is designed for tots between 4 and 8 years old who are just learning to read and write. That said, I gave it to my 3-year-old to test, and he was comfortable with the reading part of it in a matter of minutes.
What sets it apart? Slimmer and easier to hold than the original Tag, the new system's reading experience feels exactly the same as the old version — place the stylus on the page, and it will sound out words, read whole words, or read entire sentences. Where the system excels is in the new writing experience and a listening experience that now includes music.
The new writing experience includes stroke-by-stroke instructions for drawing a letter and a system that includes mess-free LeapFrog Learning Paper — tots can see what their letters look like on a real sheet of paper (the LeapReader stylus actually writes — only on that paper — like a pencil).
The LeapReader's listening experience moves beyond the books now. Child-friendly albums can be downloaded (think Kidz Bop), and kids can play trivia games answering on the stylus.
The new LED panel on the front of the stylus uses different colors to show kids which mode they're in, making it easy to switch between them.
At 256 MB of memory, the LeapReader has 16 times the storage space of the Tag, meaning it can hold up to 40 books or 175 songs — more than ever before (though some of the books take more memory than earlier versions did).
The LeapReader uses a rechargeable lithium ion battery that charges from your computer, a nice improvement over the countless batteries we ran through with the Tag.
The audio is much clearer than on the Tag, which is great when the system is sounding out a word.
Keep reading to see what could be better and how long the LeapReader entertains a youngster.
What could be better? Not much! The LeapReader is a huge improvement upon the Tag, and the addition of writing just feels right. The one thing I wish it could do is teach tots how to hold the stylus — and ultimately their pencil — properly, but I'm not quite sure how it could do that (unless sensors were installed).
How long did it entertain my child? Hours! My oldest son played with his Tag off and on for about six months, but my younger one is loving the LeapReader and doesn't show any signs of becoming bored with it. When he finishes a book, he moves right over to the music — and speaking of books, he can't get enough of the new 3D Disney·Pixar Monsters University Book ($14) where the graphics leap off the page.
Would I buy it? In all, the new LeapReader appears to be an all-in-one solution for families looking to encourage reading and writing at home. It's a great way to introduce the concepts or to reinforce what kids are learning at school.