Less Family Meals Being Eaten at Home
Drive Through Dinner: Families Eating Less Meals at Home Than Ever Before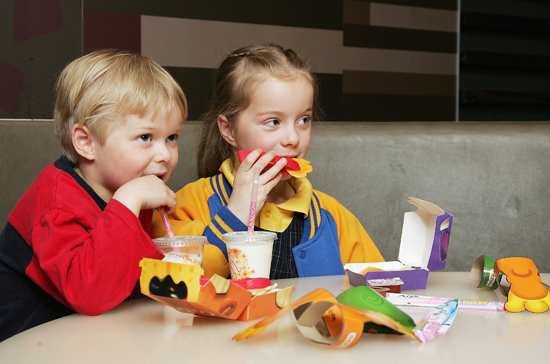 Maybe Jamie Oliver needs to invade our homes, not our schools. Between shuttling tots between activities, managing our careers, and running our households, moms are busier than ever before and it's showing in how we feed our kids.
A new study published in the Journal of the American Dietetic Association finds that more kids are eating foods prepared outside the home than ever before and this may be tied to the rise in tots' daily caloric intake. According to researchers, since 1994 parents have been feeding lil ones more store-prepared and fast foods than ever before, and they're not eating them in their own homes. In 1977, kids ate 23.4 percent of their calories outside their home, while in 2006 that number was closer to 34 percent.
Busy times call for meals that can be grabbed and consumed on the go. Tell the truth, how often does your family really eat a home-cooked meal at home?