Lil Find: Adiri Natural Nursers
Breast is best to a lot of moms, but so is the allure of having someone else do a feeding now and again.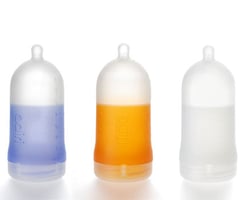 A girlfriend of mine's lactation consultant recommended a bottle that is allowing her to do both — the Adiri Natural Nurser ($25, for a set of two). So I had to check it out, naturally.
This pricey lil bottle's nipple is designed to helped alleviate nipple confusion for breastfeeding babes by encouraging open-mouthed latching — and it does feel quite real in comparison to most bottles on the market. The vent system in the bottle's twist-on cap lets air flow slowly into the bottle as the baby drinks, preventing the nipple from collapsing and minimizing gas or painful bubbles. Cleaning up is a snap and worrisome parents will be pleased as the Natural Nurser is 100-percent Bisphenol-A (aka BPA) free. While $12.50 for a bottle is quite steep, if money is no object then go for it!