Lil Tip: Cleaning Up the Car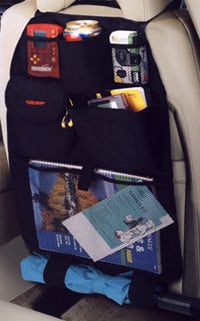 I've always been a bit fanatical about keeping my car clean, but when you have kids certain things fly out the window (or trunk). So, I'm left with a vehicle ridden with cracker crumbs, granola bar wrappers and abandoned socks. And, that's on a good day when liquids aren't involved.
This back seat organizer is the best solution for organizing car chaos. Priced at $13, it has enough pockets and pouches for every storybook, stuffed animal, sippy cup and snack to be tidily tucked away.