Lil Tip: Don't Stop Believin'
Lil Tip: Don't Stop Believin'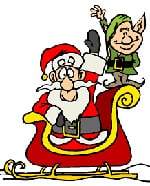 It's Christmas Eve and your lil ones are expecting Old St. Nick to make his appearance tonight. If you're not the type to don a white beard and pillows stuffed under a red jacket, we've got some other ideas that will keep your babes believing in Santa Claus.
Chances are the kids will leave out cookies for the jolly old man and his crew of reindeer. Santa always managed to find time to put the dishes away at our house, which didn't make sense when he had to deliver toys to the rest of the world!
So before the kids come down in the morning, leave a trail of crumbs near the fireplace or at least on the table. The kids will be thrilled to see Santa's evidence.
As a child, I swore that I heard Prancer and Vixen on the roof one Christmas Eve. Get into the spirit and jingle some bells around midnight when the kids think Santa might be making his appearance.
The last thing you can do to add to Santa's magic is to leave some sort of belongings around the house. Maybe an elf hat was left behind during the gift drop or one of Santa's black buttons popped off when he ate too many of your child's delicious cookies.
Have fun playing along – the innocence doesn't last forever.